Some things to know ahead of Thursday's massive document dump.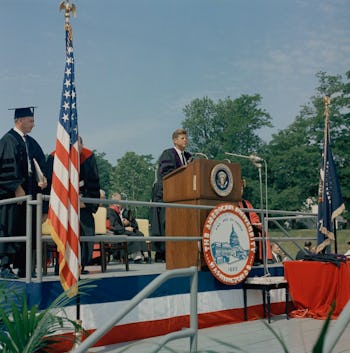 JFK Library
On Thursday the National Archives was mandated to release the last of the JFK files, the humongous dossier of documents collected by the Warren Commission following John F. Kennedy's assassination in 1963.
The full release was sure to whet the appetites of JFK conspiracy theorists everywhere, but they might be having a heyday now; it was reported late Thursday that the administration would only allow the release of 2,800 documents, while tens of thousands more would be held for an internal review.
So What's in the JFK Files, Anyway?
We don't really know. Although most of the files collected by the Warren Commission — the have been publicly available since the '90s, there's reportedly around 3,100 files that have never seen the light of day — or were until now heavily redacted — mainly from the Justice Department, CIA and FBI.
Was the JFK Assassination a CIA Coverup?
Some people definitely think the documents will reveal this. The files are said to include documents relating to Lee Harvey Oswald's trip to Mexico City — a major point of curiosity for JFK assassination buffs. Oswald was in contact with Soviet and Cuban spies during his trip to Mexico City and reportedly talked openly about his intention to kill Kennedy, just weeks before the assassination took place. During his trip, he was under surveillance by the CIA's Mexico City office. The newly released documents will supposedly include notes from CIA operatives in Mexico City, begging the question: how much did the CIA really know about Oswald's intention to kill Kennedy?
Why Were the JFK Files Sealed?
A renewed fervor into the JFK conspiracy theories was sparked in the early '90s following the release of Oliver Stone's JFK biopic, which implied that Oswald had not acted alone. In 1992, in the hopes of appeasing the public, a law was passed by President Bush that all the documents would be released in 25 years. The official line is that the remaining files have been kept secret because of their ability to damage national security. Possibly, the CIA is worried that the optics created by the fully released documents will make it look like they bungled the whole affair. But we really have to wait until we see the actual files to know.
If you're feeling like you want to spend the day being an amateur sleuth, the files will be available to download via the National Archives here.
This story has been updated to reflect the news late Thursday that some of the JFK files will not be released on October 26.