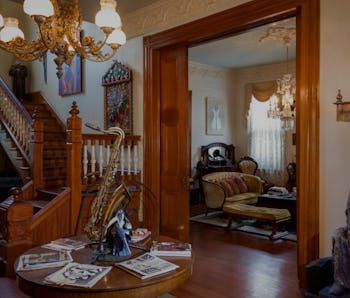 Culture
Airbnb Owns the Fact Some of Its Rentals are "Haunted"
Oooh, I hope the hell-mouth is working.
Airbnb
Airbnb has inspired storytellers a lot in the relatively few short years the peer-to-peer house-sharing app has been around. Filmmakers and writers tell stories of love and the awkwardness that comes from sharing your personal space with a stranger. At their best, depictions of Airbnb situations on the screen and the page feel natural. But what about when actual Airbnb stories are supernatural? The rustic cabin upstate you booked could also house the spirits of a murdered family, after all. It looks like Airbnb — founded by two art school students in 2008 — is finally owning up to this reality.
The company released on Thursday, a few days before Halloween, a collection of five tales that should be the first thing you think of when you mysteriously wake up at 4 a.m. to a knocking sound and your Shiba Inu growling toward an empty corner of your bedroom. Below are the "haunted" spaces you can book.
Buried in the dirt near the Parks-Bowman Mansion in New Orleans are the bones of a young woman who's said to haunt the mansion. Airbnb opts to call her a "helpful roommate" in its 336-word blurb about the haunting and the hosts definitely play up that history, putting skeletons in the "haunted bedroom" where the spirit is said to hang out. The room is booked up through the end of this month, but at $115 a night, there appear to be open dates in early November. As haunted bedrooms go, this one seems otherwise quite lovely. "The Haunted Bedroom features a queen-size bed and sitting area, and is one of the two largest bedrooms available in the house. It features a full shower bath, and also offer immediate access to the third-floor porch, with its sweeping views of New Orleans." One guest writes, "We loved our stay in the haunted bedroom. We didn't see any ghosts but enjoyed the books and artifacts in our room and throughout the house." Bummer.
"When my kids were young, one of my sons would wake up on the floor wrapped in a blanket, saying that people had been standing over him," says Stephani Maitland, the owner of a farmhouse in Gettysburg, Pennsylvania, home to the American Civil War battle that resulted in a still-shocking 51,112 deaths. The farmhouse was a hospice home for soldiers after the battle. "My sleep was stirred by something that sounded like heavy shoe-ed footsteps that night, which was quite thrilling," one guest writes in her review of a night spent there. A private room in the farmhouse goes for $105 a night, and it's available tonight.
Across the pond, the Castle "Dal Pozzo" estate in in the Piedmont region of northern Italy, is said to be haunted by the ghost of a young woman named Barbara, locked away in a tower of the castle by her father, eventually dying. The entire castle is available to rent ($4,249 a night); Halloween isn't booked up yet. Clear out your savings, or pool money with friends and go sleep in the tower, already. Chain yourself to a wall.
There's a cemetery in Buenos Aires with a number of spaces to book around it that is haunted by Rufina, who died twice. The Argentinian woman was thought to be dead but was rumored to be knocked out with tranquilizers by her mother. A funeral was held, she was buried alive, and then died in her struggle to escape the mausoleum.
Finally, Airbnb wants you to stay a night in "The Haunted Chamber Apartment" in London, which, at $132 a night, seems like a steal and is booked for most of November and December. The actual story seems too bizarre to be true, but it involves dead orphans and insanity, so yeah, obviously stay the night here if you can. Strangely, the listing touts that it is "Family/kid friendly."
So, while the cultural complaints against Airbnb are hard to argue with, it has at least created the opportunity to surreptitiously summon the dead behind a closed door of a bedroom, thanks to the sharing economy.