Pro Wrestling Star Saves Suicidal Woman, Credits His Grappling Expertise
Wrestling doesn't need to be real to help save people.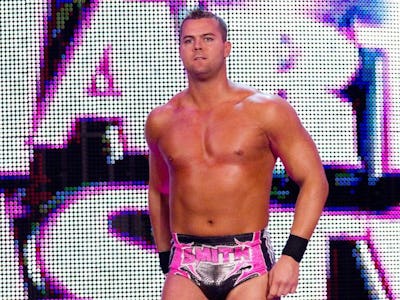 WWE
Professional wrestling might not be real, but what it teaches can be applied in very real, life-or death situations. Just ask former WWE superstar Davey Boy Smith Jr., who says he prevented a suicide over the weekend by drawing on his years of in-ring knowledge.
As Smith detailed in a Facebook post, he saw a woman about to jump off a bridge while driving in his hometown of Calgary, Canada. He approached her in an effort to change her mind, but he says the woman was so distraught that he had no choice but to try to restrain her physically. This is where his grappling expertise proved crucial, as he details:
Luckily my years of grappling and self defense I knew how to grab her HARD and how to pull her up from hanging off and jumping. She wasn't exactly small either 😬 I knew not to grab her clothing because she would have ripped though it.. When I yanked her off the bridge finally, I established the mount position as you do in Grappling and did not let her budge.
She also said she had a gun too 😳😳. She was crying and said she just wanted a hug. But as much as I wanted to hug her I told her I couldn't hug her because she said she had a gun. And then she squirmed and demanded I get off her. I told her "Miss your not going to move unless I want you to, I'm an expert grappler and your not going to shoot me. We will get you help life is a precious thing and I'm here to help you."
The Canadian Press has since confirmed Smith's account with the Calgary police.
Smith is pro wrestling royalty. He's a member of the Calgary-based Hart wrestling dynasty and the son of the late legend Davey Boy Smith, who as the British Bulldog is a contender for the greatest wrestler to ever come out of the United Kingdom.
The younger Smith has had his own distinguished career in the squared circle, winning the WWE Tag Team Championship in 2010. He currently wrestles in New Japan Pro-Wrestling, the world's most prestigious promotion outside the WWE, where he and partner Lance Archer are in their third reign as tag team champions.
But all that pales in comparison to what he did Sunday, Smith wrote in a followup Facebook post.
"For me saving someone's life is the greatest accomplishment I've ever made, and meant more than winning any championships in Wrestling," he wrote. "People should never be afraid to ask for help if they need it. And you should never refuse a hand to help somebody in need. Spend time with people that really care about you and love you. Stand tall, be proud and be YOU!"