Elon Musk Groans at Self-Driving Startup's Big Sale
Another day, another autonomous vehicle acquisition.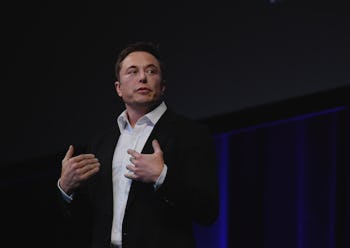 Getty Images / Mark Brake
This week Delphi Automotive acquired autonomous vehicle startup nuTonomy for $450 million, and Elon Musk had an eye-roll reaction.
Or should we say, a "groan" reaction.
Delphi, a British-based automotive manufacturer, is paying $400 million to buy out the Boston-based startup, on top of $50 million in earn-outs.
"Our mission has always been to radically improve the safety, efficiency, and accessibility of transportation worldwide," nuTonomy cofounder and CEO Karl Iagnemma said in a press statement. "Joining forces with Delphi brings us one step closer to achieving our goal with a market-leading partner whose vision directly aligns with ours. Together, we will set the global standard for excellence in autonomous driving technology."
nuTonomy — which launched in 2013 and operates in Singapore, with plans to test in Boston — is reportedly "developing an automated driving 'stack' — the combined software programs that do everything from fusing sensor inputs that perceive the environment around a vehicle to facilitating the decision-making of where to actually drive."
In the race against time to put autonomous vehicles on the road, Tesla mastermind Musk has his competitive reasons to groan about the acquisition. But it's hard to argue Delphi paid too much. Half a billion dollars to add a self-driving program to a company's portfolio is practically spare change in 2017.
When compared to other recent autonomous vehicle buyouts, $450 million really doesn't seem like much. Last year, for instance, General Motors purchased Cruise for $1 billion, and this year Ford acquired Argo AI for also about $1 billion. Intel paid a whopping $15.3 billion for Mobileye.
While Musk left it unexplained on just why he groaned at the nuTonomy acquisition, one person in his replies threw out as good a theory as any.
If you liked this article, check out this video on how Elon Musk became so popular.