The 'Stranger Things' Season 2 Soundtrack Is Full of Tantalizing Clues
Decoding the mysteries thru the music.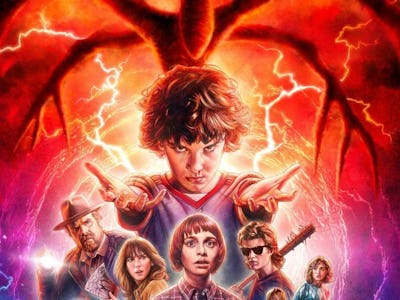 Netflix
Stranger Things 2 will emerge from the Upside-Down in just a few days, but the synth-heavy soundtrack for the Netflix series's sophomore season came out a week before the premiere, and the track names are full of tantalizing clues about what's coming for Hawkins, Indiana.
The soundtrack, composed again by Kyle Dixon and Michael Stein, is moody and a very specific brand of '80s spooky, but an isolated listen really allows the music's sense of wonder to come through, since it's not accompanied by on-screen terrors.
Over the course of 34 (mostly short) songs, the Stranger Things 2 soundtrack reveals quite a bit about the upcoming season. Here are some of the most intriguing song names. Nothing on the soundtrack is quite as revealing as the Season 1 soundtrack cut "That's Not My Boy," but there's still plenty to gleam.
"Eulogy"
Either the boys are still sad about Eleven, or else maybe Barb is finally getting some justice. In any case, this ethereal tune suggests that the losses from Season 1 are still being keenly felt.
"Looking for a Way Out" and "Birth / Rescue"
The first full trailer ended with Eleven crawling out of the Upside-Down in a fashion that didn't not resemble being born. Presumably, these two tracks will score her escape.
"Eggo in the Snow"
Even though Three Musketeers have replaced Eggo waffles as the food of the season, the frozen breakfast food still have a role to play in the upcoming episodes, as evidenced by this song referencing the stash of food Hopper's leaving for Eleven.
"To Be Continued"
The last song on the soundtrack is also the most intriguing. Stranger Things hasn't officially gotten renewed for a third season yet, but the Duffer Brothers have publically talked about their plans for more seasons to come. "To Be Continued" seems to hint that the story of Hawkins, Indiana isn't over. Whether Stranger Things will continue that story in a future season or move on to other tales remains to be seen, but maybe don't expect a tidy, definite ending in either case.
Stream the entire soundtrack below. Stream "Thriller," which is not on the soundtrack but was in the San Diego Comic Con trailer, here.
Stranger Things Season 2 hits Netflix on October 27.
If you liked this article, check out this video of an 8-bit Stranger Things game.