Summer Movies 2020: DC, Warner Bros. and More
'Sequel-itis" immunizations required.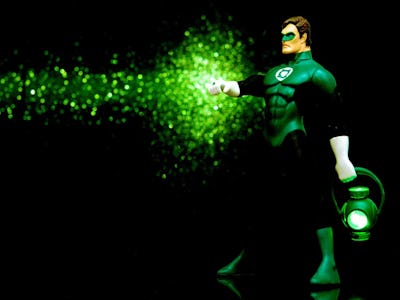 The summer months are simmering away, driving audiences into that air-conditioned paradise known as the multiplex. Chances are if you've visited your local theater in 2015 you've caught dinosaurs, tiny superheroes, megalomaniac robots, turbo-charged muscle cars, and sentient computer systems hell bent on global domination. This year's line up hasn't scrimped on spectacle, but can the same be said for a trip to the flicks in five years' time? Here's a brief rundown of the movies confirmed to open in summer 2020.
'The Hunt Is Over'
Release date: April 2, 2020.
This is not your typical blockbuster fare. Based on a novel by a relatively unheard-of author, Ken Policard, this religious epic is currently slated to open the first weekend of April 2020. God and Satan enter into a wager, wherein the Devil bets that if Jesus Christ returns to Earth with no prior knowledge of his divine nature and no clue as to who his dad is, then God must uncreate man. If he loses, Satan must become a man. Christopher Coppola (of the expansive cinematic family) is attached to produce. It's targeting a very niche audience, which won't be a problem as long as it's not competing with, I don't know, a major comic book release.
'Cyborg'
Release date: April 3, 2020
Warner Bros. has plotted out the next several years of its DC comic book movies set to tie together in one gigantic cinematic universe. By the time the Cyborg solo outing arrives, the character will have already appeared in Batman V Superman: Dawn of Justice (2016) and the two part Justice League movie (2017 and 2018). Still, a cameo isn't enough to set up a rich backstory. While plot details on his standalone jaunt are thin on the ground, an origin story would help acquaint audiences with Victor Stone.
Ray Fisher plays the youngster, who is transformed from a typical teen into a super-powered hero with increased strength and endurance by his scientist parents. They're not total tyrants though; he can also fly.
'Back To The Saddle 2'
Release date: May 1, 2020
An equine blockbuster sequel? No. A quick exploration of this film's IMDb entry reveals the truth of its lineage; it's some sort of student film. Possibly. Well, the CEO of HD3D Studios - who's also its director, writer and star - is 15. There's no information on the movie, but what's revealed about the first film suggests that this is as low budget as it gets. The grammatically-challenged plot synopsis from Back To The Saddle is a confusing mess. Something about a teenager working for the FBI. Bankrobbers. Mysterious letters. None of it adds up especially when the official site features a poster - making heavy usage of the Indiana Jones font - of an apocalyptic explosion.
'Cranium Intel: Magnetism X.3'
Release date: May 22, 2020
A hodgepodge cluster of clunky words and grammar, Cranium Intel: Magnetism X.3 wins the "most batshit movie title of the summer" honor. It's the third part of a forthcoming sci-fi action franchise based on The Military Execution saga by Aeneas Middleton, who's also responsible for three trilogies of young adult novels concerning the antics of a Welsh boy wizard known as Tim Hartwell.
Harry Potter comparisons aside, Cranium Intel opens next year and based on the laws of sequelitis we can assume that the third part will include traces of its DNA. In this alternate version of Earth, the gigantic Gateway Arch in St. Louis is a portal (gateway-portal, is there a little similarity there?) to Planet X. A military scientist, decked out in AV recording devices, enters and feeds back info to the President. But in the future. And now the commander in chief wants this guy dead. It's complicated.
'The Lovaganza Convoy: Part 3 - The New World'
Release date: June 3, 2020
According to the film's official site, The Lovaganza Convoy is a trilogy in a planned saga that consists of three trilogies. Right, so that's nine movies. But let's not get ahead of ourselves with what sounds like a freelove fest of nomadic proportions. The first flick revolves around a reporter who infiltrates a group of enlightened folk traveling around - in a convoy! - who claim to have found the secret to happiness. There's references to the New World, a young priest who takes up motorbiking, and a prophecy chucked in at the end.
'Green Lantern Corps'
Release date: June 19, 2020
Remember the really bad Green Lantern movie with Ryan Reynolds in a CGI suit? Warner Bros. is hoping the universal response to that question is "what now?' Wipe it from your mind folks, and let excitement simmer away for this rebooted version due to close out the studio's current slate of DC. Comics adaptations.
Only recently did the film's official title emerge, implying that all those rumors and tentative scraps of speculation as to who will play the verdant superhero could all be true. The focus won't be on one Green Lantern — because there will be many. Chris Pine, he of Star Trek fame, is a key frontrunner along with Tyrese Gibson, whose personal Instagram campaign to snag the part is more aggressive than Harvey Weinstein's Oscar pushes during awards season. There's no word on who might direct this fleet of intergalactic policemen patrolling the universe, or who is on the books to script their adventures.