Richard Spencer Visit Moves Florida to Declare a State of Emergency
The white supremacist is set to speak on Thursday.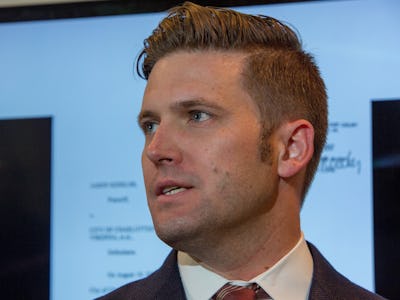 Getty Images / Tasos Katopodis
The governor of Florida declared a state of emergency on Monday, in advance of a speech by white nationalist Richard Spencer scheduled to occur at the University of Florida on Thursday.
"We live in a country where everyone has the right to voice their opinion, however, we have zero tolerance for violence and public safety is always our number one priority," Governor Rick Scott said in a statement. "This executive order is an additional step to ensure that the University of Florida and the entire community is prepared so everyone can stay safe."
As a figure at the forefront of what's loosely called the "alt-right" — a movement mostly made up of white supremacists — Spencer first became infamous after he was punched on Inauguration Day this year. As a neo-Nazi that has called for a "peaceful ethnic cleansing," his speeches have been met with crowd members raising their arms in Nazi salutes and shouting "hail Trump.". Public school Auburn University cancelled his scheduled appearance in April.
The University of Florida is set to spend $50,000 on security for Spencer's speech, while the executive order will grant local law-enforcement agencies the ability to work with other agencies to secure the event. The Florida National Guard has also been activated to assist.
Spencer, who is concerned the action could mean the speech getting blocked entirely, described the action as "flattering" but "most likely overkill."
"I'm not a hurricane or an invading army, at least not literally," he told the Orlando Sentinel.
Spencer claims that the emergency declaration could be a means of blocking the speech, with a similar state of emergency declared in Virginia the day before he was due to speak at the Charlottesville rally.
Fears around a repeat of the violence that left one dead in Charlottesville pushed officials in Florida to act. Alachua County sheriff Sadie Darnell, who spoke with Scott about the action, said they expected both protesters and counter protesters to appear at the Thursday event.
"We are hoping this is a non-event," Darnell said. "We are hoping this will go very smoothly and peacefully. But in the reality of this world we have to be well prepared."