Russia Used 'Pokémon GO' to Try to Increase Racial Tension in the U.S.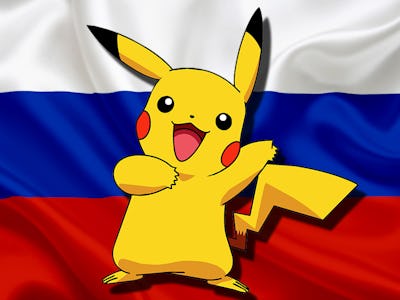 During the 2016 election, Hillary Clinton infamously quipped that she wanted people to "Pokémon GO to the polls, but a new report reveals that a group of Russian trolls with ties to the Kremlin wanted to help weaken America by using the game to exploit racial tensions. What a time to be alive.
CNN broke the news on Thursday that "Don't Shoot Us," a campaign that purported to be aligned with the Black Lives Matter movement, was actually a Russian-backed meddling project. The story, by Donnie O'Sullivan and Dylan Byers, details the strange plan, which also took advantage of Facebook, YouTube, Tumblr, and other social media platforms.
"Don't Shoot Us," which has links to the Russian troll farm known as the "Internet Research Agency," used its many platforms to try to anger Americans about racial injustice and motivate them to cause turmoil. The YouTube channel, which is still up, posted more than 200 videos about police brutality between May and December of 2016, for instance.
Pokémon GO comes into the picture in July of 2016, when the "Don't Shoot Us" Tumblr promoted a supposed "contest" encouraging players to catch Pokémon on the augmented reality game at the site of instances of police violence. Then, they were supposed to name the captured Pokémon after a victim of police brutality. An image promoting the concert displayed a Hypno named "Eric Garner," for example.
"Don't Shoot Us" encouraged participants to email them screenshots of their captured Pokémon, and promised an Amazon gift card as a reward. It's unclear if there were any real prizes or, more importantly, if anybody actually took part.
CNN's reporting also doesn't explain what, exactly, "Don't Shoot Us" hoped to achieve with the Pokémon GO stunt. Presumably, it was to use the game to reopen wounds and cause discord, resentment, and fuel conflict. The group did, however, put efforts into promoting other protests not involving Pokémon GO that did seem to be more effective.
Niantic, the software company responsible for 8Pokémon GO*, tried to distance itself from the wholee event.
"It's clear from the images shared with us by CNN that our game assets were appropriated and misused in promotions by third parties without our permission," Niantic said in a statement given to CNN.
It is important to note that Pokémon GO, as a platform, was not and cannot be used to share information between users in the app so our platform was in no way being used. This "contest" required people to take screen shots from their phone and share over other social networks, not within our game. Niantic will consider our response as we learn more.
Facebook, Instagram, and Twitter have all since suspended "Don't Shoot Us" accounts, while the YouTube and Tumblr pages are still up. The Tumblr page has switched its focus to being a pro-Palestine site, however.
It's tempting to end with a Team Rocket joke, but there's something deeply depressing about a foreign plot to exploit America's very real problems with race using a iPhone game about Pocket Monsters.
In what's almost certainly a coincidence, Russia banned an episode of The Simpsons earlier this year because Homer was playing a Pokémon GO-like game in church.