Boy Scouts Will Allow Girls, But of Course There's a 'But'
It's about damn time ... if it actually happens.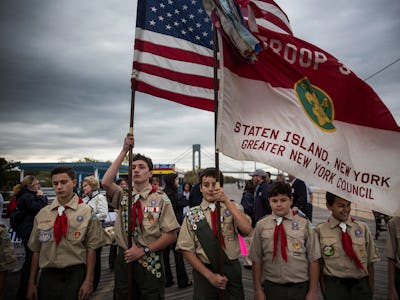 Getty Images / Andrew Burton
In line with the changing times, girls can now participate in some Boy Scout programs, the organization announced Wednesday.
The Boy Scouts of America is known for its focus on preparing for manhood and improving outdoorsmanship, so it's huge that its board of directors "unanimously approved" welcoming girls to join the organization starting in the upcoming 2018 program year. The organization says they decided to open up their ranks in response to parents wanting their kids participating together in the same activities, as well as "years of receiving requests from families and girls," according to a statement.
Despite how heartening this sounds, some caveats do exist that allow the Boy Scouts to, in their words, "maintain the integrity of the single gender model." That idea doesn't exactly mesh with a supposed desire to incorporate daughters and sons into the same program.
Girls in first through fifth grade will be allowed to join Cub Scouts. However, Cub Scout "dens" — the small, single-grade groups that meet weekly — will remain single-gendered. That means if there are only one or two girls in a neighborhood who want to join the Cub Scouts, they will have to have their own meetings and complete their own activities without much of a crew. Additionally, the Cub Scout "packs" — larger meetings of multiple dens in the area — can choose whether to admit girl dens to their pack, or flat out reject their membership. Without including girls being a mandatory, it remains to be seen whether it will actually happen.
Girls older than 10 who would be of age for the Boy Scouts program are having a separate program developed for them that is expected to launch in 2019. These girls will be able to earn the rank of Eagle Scout, the highest honor awarded in the Boy Scouts.
So this may be a case of an initiative that offers girls the chance to be Scouts, but when examined on a little deeper, it won't necessarily have them building fires with boys. The Boy Scouts of America did not respond to a request for comment by the time this article was published.
On some level, the change is still a win for girls who want the Scout experience, especially as it was announced on International Day of the Girl.
Of course, some people are still upset by the change.