Why Zuckerberg Says Oculus Go is 'Most Accessible VR Experience'
Mark Zuckerberg announced the $199 headset on stage at Oculus Connect.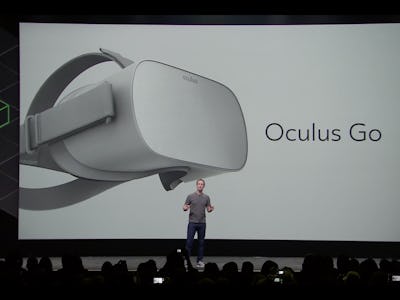 Facebook
Facebook has announced a major step in its plan to get the world using virtual reality. Oculus Go, a $199 standalone headset set to launch early next year, was described by CEO Mark Zuckerberg as "the most accessible VR experience ever" when he unveiled the product on Wednesday.
Oculus Go forms part of Facebook's big goal to eventually get one billion people using virtual reality, visiting virtual concerts, playing games and communicating in virtual hangout areas. The company believes that when people try the technology for themselves, the immersion factor is what persuades them.
"Once you feel it, there's no going back," Hugo Barra, Facebook's new head of virtual reality, said at the Oculus Connect developer event in San Jose on Wednesday. "You know it's the future."
With that in mind, the Go focuses on two aspects to expand virtual reality: accessibility and innovation. It's lightweight, with soft elastic straps and a breathable mesh fabric cover. The headset has built-in spatial audio that means a user doesn't have to put headphones on to get the immersive sound found in other headsets.
On the innovation front, Go uses a new custom optical design with the same wide-field view as the Rift, but with significantly reduced glare. The headset uses a fast-switch 2,560 by 1,440 LCD screen specifically optimized for virtual reality. These changes should reduce the much-hated screen door effect that plagues other headsets.
"We haven't seen this kind of visual clarity before," Barra said.
The Go occupies a spot between the $129 Gear VR and the $399 Oculus Rift. Where the Gear VR requires a smartphone and the Rift a computer, the Go requires neither. It's binary compatible with the Gear VR, meaning the apps that run on the mobile platform should find their way over to the Go easily.
On the other hand, it lacks the tracking that enables users to duck and dive in a 3D environment like the Rift does. But while the Rift uses external trackers to enable this, Facebook is working on a headset dubbed "Santa Cruz" that packs inside-out tracking into a Go-like device. The company has big plans for the future of virtual reality.
"I am more committed than ever to the future of virtual reality," said Zuckerberg. "VR is about imagining the world as it could be."
If you liked this article, check out this video about a virtual reality sculpting studio.