After Eminem's BET Rap Goes Viral, We're Left Waiting on Trump's Diss Track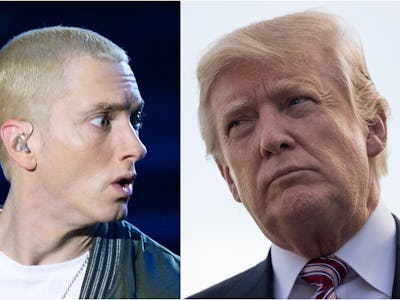 Getty Images
President Donald Trump has yet to respond to Eminem's rap at the BET Hip Hop Awards on Tuesday, in which he described the president as "a kamikaze that will probably cause a nuclear holocaust."
The five-minute video, filmed as part of the show's traditional cyphers, saw Marshall Mathers attack Trump for his racism and anti-immigrant stances.
Following the awards show, social media was awash with speculation about how Trump might react.
"'I think it's fake news,' Trump said, 'but if he did that, I guess we'll have to freestyle. And I can tell you who is going to win.'" Reddit user czegoszczekasz imagined.
The president has a reputation as quickly rising to respond to criticism through his personal Twitter account, using the platform to decry public figures that speak out against him. In fact, when Snoop Dogg pointed a pistol at a clown called Ronald Klump in a music video back in March, Trump condemned the rapper almost immediately.
"Can you imagine what the outcry would be if Snoop Dogg, failing career and all, had aimed and fired the gun at President Obama? Jail time!" Trump said.
In response to Eminem's latest video, Twitter user TheMichaelRock suggested Trump may try to rap:
Twitter user DeMarko_Gage said Trump may opt to blame Eminem as the reason why people don't watch BET.
This would follow what's become a common refrain for Trump. He's described the New York Times, NBC, ABC, CBS and CNN as "failing" before, all in one Twitter post. Many assume he will make some sort of comment about Eminem, or BET, failing.
"Trump next tweet on Twitter. 'BET is a racist network! Thats why their ratings have been plummeting ! SAD! Eminem is such a loser rapper," said Twitter user coolminnie16.
Others suggested he could skip Twitter altogether:
Twitter user bjcreigh suggested he may not bother responding as Eminem is both white and male:
The world holds its breath as it waits for the almost-inevitable response from the president of the United States.