Donald Trump Almost Ruins Elton John's Classic Sci-Fi Song
And I think it's gonna be a long, long time 'til people forget about this one.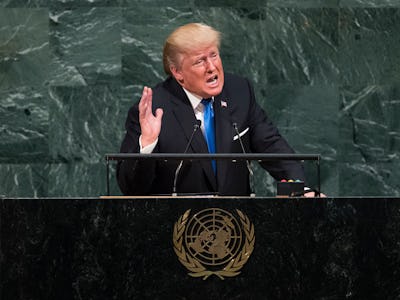 Getty Images / Drew Angerer
When President Donald Trump doubled down on his threats against North Korea during his address before the United Nations General Assembly on Tuesday, he referred to North Korean leader Kim Jong Un as "rocket man," much to the chagrin of Elton John fans everywhere.
"Rocket Man is on a suicide mission for himself," Trump said, "and for his regime. The United States is ready, willing, and able, but hopefully this will not be necessary. That's what the United Nations is all about."
"The United States has great strength and patience, but if it is forced to defend itself or its allies. We will have no choice but to totally destroy North Korea," Trump blustered from the green marble dais inside the General Assembly hall.
To zero in on Trump's subconscious pop culture references is to deal with his aggressive war-mongering with a sense of humor, which a lot of people did on social media in the minutes after his remarks.
While many found his crass, inelegant, Trumpian comments against North Korea troubling, the president's sentiments weren't all that different from more graceful or humorous comments from high-ranking government officials. President Barack Obama said in 2014 during a speech at a military base in South Korea that the United States "will not hesitate to use our military might" against the country. Colin Powell, who served as U.S. Secretary of State under George W. Bush, memorably said in 1995 that North Korea would end up a "charcoal briquette" if it went to war with the United States. William Perry, former Defense Secretary for President Bill Clinton — who nearly brokered a deal that would have stopped the regime's development of nuclear weapons in the summer of 1999 until the election of Bush that November halted proceedings — told the *New York Times* earlier this year that North Korea "would be toast" if they went to war with America.
So while past presidents and U.S. officials have used more sophisticated language, they've expressed roughly the same ideas as Trump did on Tuesday. (Trump made similar statements against the leadership in Iran and Venezuela, albeit without the same referential pizzaz.)
But the efficacy of a humorous response to such threats remains up for debate. On the one hand, humor can be a powerful tool for conveying information and ideology as evidenced by the alt-right's reliance on memes as a recruitment tool and by humorous voices on the left like podcast Chapo Trap House, which espouses leftist policies while making jokes about Subway Jared being innocent. On the other hand, focusing entirely on humor or overestimating its power can lead to missteps — think Trump hosting SNL or Sean Spicer's dumb Emmys cameo.
On the third hand: Rocket Man? Haha, what? Like, the Elton John song? That's … so weird. And this is not even the first time Trump referred to the North Korean dictator as such.
On Sunday, the president used the nickname in an unflattering tweet about the North Korean dictator.
So for many classic rock fans, Trump's words in regards to Kim Jong Un instantly evoked Elton John's 1972 hit single "Rocket Man (I Think It's Going to Be a Long, Long Time)," and this strange reference was worthy of comment for a handful of reasons.
The subject of John's stunning ballad is totally divorced from nuclear war. Rather, it deals with one astronaut's existential loneliness as he leaves his family and planet behind to travel to Mars. Beyond that, although he has yet to make a statement about today's words or Sunday's tweet, Elton John voiced dissatisfaction with Trump's usage of his music in the past.
"I don't really want my music to be involved in anything to do with an American election campaign," the singer told the Guardian in February 2016. "I'm British. I've met Donald Trump, he was very nice to me, it's nothing personal, his political views are his own, mine are very different, I'm not a Republican in a million years. Why not ask Ted fucking Nugent? Or one of those fucking country stars? They'll do it for you.
After Trump's comments on Tuesday, many came to Elon John's support. It didn't take long for people to voice dissatisfaction with the president's words, or the, honestly, mediocre Kim Jong Un burn.
Other people had … different qualms with the president's performance at the General Assembly today, namely the DPRK News Service, the propaganda wing of Kim Jong Un's government.
But, overall, Trump's speech was a frustrating experience for both people who love Elton John's music and people who want to stay out of international military conflicts.
Same, dude. Same.
If you liked this article, check out this video of what cybersecurity under Donald Trump looks like.