Who Is the New Villain in 'The Flash' Season 4? What to Know About Thinker
It's a whole new kind of villain for 'The Flash.'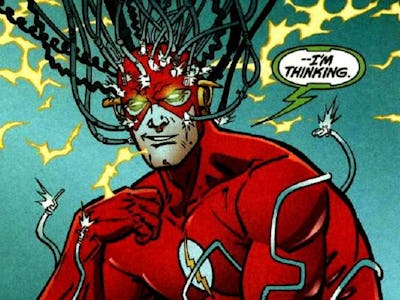 DC Comics
We finally got our first look at Season 4's first non-speedster big bad on The Flash, and he's utterly terrifying. Last season offered multiple teases that "DeVoe," aka "The Thinker," was coming, and now he's here. But who is he and what is he after?
What we do know is that The Thinker and his assistant, The Mechanic, sent the Samuroid to bait Team Flash into bringing Barry back from the Speed Force. Somehow, they knew what had happened and they wanted — or needed — The Flash back in action for their untold plans. We can probably expect, in some fashion, that they'll be the ones behind many of this season's enemies.
In the comics, The Thinker mantle was taken up by several different characters. The earliest and weirdest versions were Clifford DeVoe, a genius inventor who created a "Thinking Cap" that made him, get this, think better. It made a genius even more brilliant, allowing him to outwit even the smartest heroes.
This iteration seems closer to the Superman villain Brainiac, most recently featured in the video game Injustice 2. Both characters seem to be something of a sentient computer, hooked up to futuristic or alien-looking technology with tubes and wires.
One version of The Thinker in the comics is essentially an A.I. created by DC's Mr. Terrific using the Thinking Cap technology. The A.I. went rogue (think Ultron for the DC Universe). The only hero able to defeat that version of The Thinker was Cyborg, who can easily interface with computers. But, so far, there's no version of Cyborg in the Arrowverse, and, obviously, Curtis from Arrow didn't create this version of The Thinker.
Therefore, it's nearly impossible to know the origins of the Arrowverse Thinker, but he's a welcome sight considering he's not yet another speedster big bad for Team Flash to fight this season.
The Flash Season 4 airs on Tuesdays on The CW at 8 p.m. Eastern.