High-Tech Prank Makes Tourists Fear Falling to Their Deaths
Technically, it's brilliant. In practice, it's horrifying.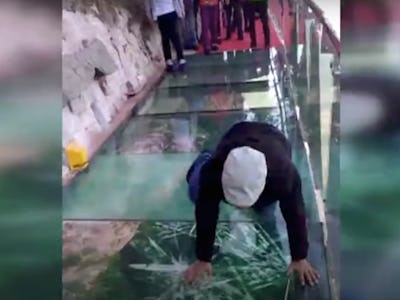 CGTN
Engineers have discovered perhaps the most brilliant (and cruel way) to trigger acrophobia, or the fear of heights. And they did it for what appears to be a publicity stunt.
High in the hills of the Hebei Province of China rests the East Taihang Mountains. One way for tourists to explore these mountains is by crossing a glass bridge at the Taihang Mountains Scenic Area, located over 3,800 feet above sea level. Recently, videos of tourists experiencing a terrifying special effect that makes it look and sound like the glass is shattering below their weight have gone viral.
"It scared me," one apparent victim — and no, victim is not too strong a word here — reportedly exclaims from the floor, stating the obvious.
Though plenty of these video clips feature tourists (including youngsters) appearing to enjoy the spooky effect, Mashable reports that the negative effect it had on some unsuspecting travelers led the local government to apologize and explain.
"Sorry we let you fear," a rough Google translation of the statement reads.
According to the English language news site Channel NewsAsia, however, it's questionable just how sincere this apology really is. "The effect is so life-like, you won't be able to tell if it's the glass or your heart breaking."
Within the apology, an official explains that the effect is the result of a costly technical illusion. There are several layers of glass that separate those crossing the bridge from the nothingness beneath, and infrared weight-sensing technology between the panes were used to create the terrifying effect.
According to the Global Times, it has been announced that tourists will be told what to expect when crossing in order to maintain safety.