How to Watch the SpaceX Rocket Launch on Wednesday
The company plans to launch an SES-11 satellite into space.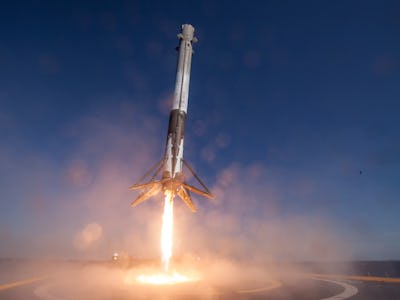 Getty Images / NASA
SpaceX is gearing up for a major rocket launch on Wednesday, and it won't be one to miss. The company will launch an SES-11/EchoStar 105 satellite into orbit, and it will be a key stepping stone on the company's path to perfecting rocket reuse technology and prepare for a manned mission to Mars.
The launch, scheduled for liftoff from Florida's Cape Canaveral Air Force Station at 6:53 p.m. Eastern, will be the third that uses a previously-flown Falcon 9 first stage rocket. If the subsequent landing onto the Of Course I Still Love You drone ship is successful, it will be the 18th time in a row that SpaceX has landed a rocket after takeoff.
Reusing rockets is a key part of Musk's plan to hold a manned trip to Mars by 2024. In the latest design for the interplanetary transport system, unveiled on September 29 at the International Astronautical Congress in Adelaide, Australia, SpaceX could send a rocket to Mars, land it, refuel it and send it back to Earth.
But Wednesday's mission isn't just about reusing rockets. It's also about sending an 11,500-pound hybrid communications satellite into orbit, replacing the AMC-15 and AMC-18 satellites to cover the United States and Mexico.
It follows on from Monday's launch of 10 Iridium NEXT satellites into orbit from space launch complex 4E at Vandenberg Air Force Base in California. Moments after launch, SpaceX landed the Falcon 9 back on Earth using the Just Read the Instructions drone ship in the Pacific ocean. The mission was the third of four launches to upgrade Iridium's commercial satellite network.
To watch the launch, click on this link to visit the SpaceX webcast page. There, the company should offer a live look at the launch from liftoff to landing. Based on previous launches, the webcast will start around 15 minutes prior to launch at 6:38 p.m. Eastern time.
If you liked this article, check out this video on the nerdy way Elon Musk comes up with the names for his inventions.