Marvel is Replacing the Cancelled 'Punisher' Panel with Stan Lee Doc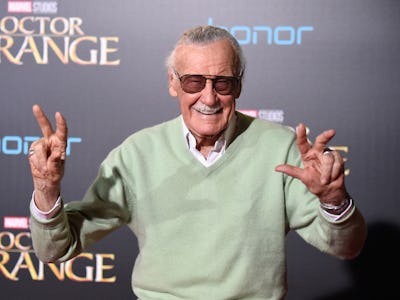 Getty Images / Frazer Harrison
In place of the cancelled Punisher panel, Marvel is planning to screen a documentary starring iconic Marvel writer and creator Stan Lee.
On Friday, the Marvel Entertainment Twitter account announced that they would be screening Joe Quesada Presents: My Chat with Stan Lee at 5:15 pm ET on Saturday, October 7. The titular conversation between Lee and Quesada, Marvel's chief creative officer, took place at the Paley Center on April 15, and was done to benefit The Hero Initiative, a non-profit organization which helps comics creators during things like medical and financial crises. In the documentary, Lee will answer "questions that he has rarely been asked and [reveal] never-before-heard stories and thoughts on some of the greatest moments in his personal life, professional career, and the history of Marvel."
The panel for Punisher was cancelled following the Las Vegas shooting on October 1, where more than 50 people died and hundreds were injured. Here's what Marvel and Netflix said in their joint statement announcing the cancellation on Thursday:
We are stunned and saddened by this week's senseless act in Las Vegas. After careful consideration, Netflix and Marvel have decided it wouldn't be appropriate for Marvel's The Punisher to participate in New York Comic Con. Our thoughts continue to be with the victims and those affected by this tragedy.
Joe Quesada Presents: My Chat with Stan Lee will screen at The Theater at Madison Square Garden from 5:15 - 7:00 pm ET on Saturday, October 7.