The Justice League's Looking for New Members in 'Teen Titans Go!' Clip
Everyone wants to win "Justice League's Next Top Talent Idol Star."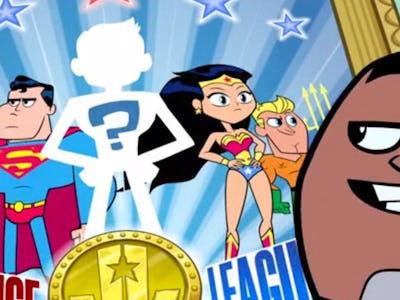 Cartoon Network
In the upcoming Justice League movie, Cyborg is a founding member of DC's top superhero team. But, in Cartoon Network's Teen Titans Go!, he's still a member of the zany, more youthful team. An upcoming special episode might change that, as Cyborg, Robin, Raven, Starfire, and Beast Boy are auditioning to join the League in an American Idol-like competition.
The special, "Top Talent," premieres on Monday, but Cartoon Network unveiled the clip early at an Inverse-moderated panel on Saturday at New York Comic Con. The clip is hosted by Robin's now-sentient Birdarang, who chats with the Teen Titans as they're waiting to audition alongside a bunch of other familiar faces. Cyborg fantasizes about being on the same team as Wonder Woman, and all the heroes show off their amazing abilities… except for Robin, who only boasts a sweet jump kick.
Robin doesn't feel bad, though, since the competition isn't just about superpowers. It's about being special, which Robin feels pretty good about, since his mom said he's special. Which, uh, kind of a dark joke when you think about who is telling it, eh?
The special half-hour episode of Teen Titans Go!, "Top Talent," premieres on Monday, October 9 at 6 p.m. Eastern on Cartoon Network.