'Spawn' Creator: R-Rated Movie Will Make 'Deadpool' Look G-Rated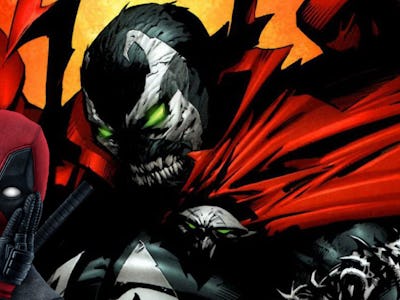 Image Comics/20th Century Fox
It seems R-rated superhero movies are all the rage, but according to Todd McFarlane, the creator of Spawn and the guy directing the upcoming film reboot, there's "R-rated" and then there's "R-rated." His Spawn movie is going to make Deadpool look like child's play.
"It's going to be dark," McFarlane said at New York Comic Con on Thursday, Deadline reports. He compared the film's hard R-rating to Deadpool, saying that the Ryan Reynolds-led film only had "a couple F-bombs and a couple bare asses."
"I will have a shark in black water, and if you're swimming he will come and you'll be gone and he will fuck you up," McFarlane said, invoking another Jaws-like metaphor to describe the tone of the film.
McFarlane also revealed that he'll be sharing daily updates from the set of the film, something he says he wouldn't be able to do if it were a big studio production rather than a self-financed movie with a $10 million budget and Blumhouse Productions' backing.
"I didn't use to draw comic books and I drew comic books and I won awards. I don't know how to read music and I have a Grammy Award," he said.
Pre-production on the Spawn movie is expected to begin in late December, with production kicking off in February.