Why Todd McFarlane's 'Spawn' Will Be Like 'Jaws'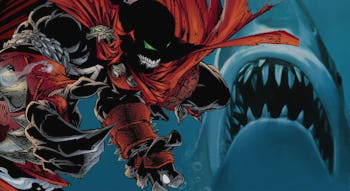 Image Comics, Universal Pictures
Fans of Spawn, beware, you're gonna need a bigger boat. In a new interview out of San Diego Comic-Con this past weekend, Image Comics co-founder and writer Todd McFarlane revealed how the upcoming movie reboot of his most popular character, Spawn, is heavily inspired by one of the most terrifying movies of all time: Jaws.
While speaking with ComicBook, McFarlane described "two big roles" in the script for the new movie from Blumhouse Productions. "There's obviously sort of Spawn himself, although in a weird way it's not the biggest role, and then there's the cop," McFarlane said. "The cop is this character Twitch, who's been there since issue number one. Twitch is the role in this one, and I sort of refer to him as my Sheriff Brody, who is the sheriff in the Jaws movie."
McFarlane compared his Spawn to Steven Spielberg's iconic great white shark: mostly silent but looming in the background. "Although it was called Jaws, Jaws didn't really talk a lot in his movie, right? He just kind of showed up at the opportune time to make the movie worthwhile. It was Sheriff Brody, the humans talking, chasing the fantastical thing that sort of made the movie, and to me there's that element."
McFarlane adds: "Everything else is normal in this story, other than … the shadow moves, and at times, even when it moves, the cop just sort of thinks he's losing his mind, so he doesn't even trust that the shadow's moving. If you're a bad guy, then this thing is going to come, and it's going to get you."
McFarlane has repeatedly said in previous interviews that his vision for Spawn is not like a traditional superhero film, but a hard-R horror movie on a controllable budget. In McFarlane's Spawn, Al Simmons is an ex-Marine turned supernatural force who rebels against his demonic overlords. But unlike the 1997 film starring Michael Jai White, McFarlane's new reboot will focus more on Twitch, one-half of the two hard-boiled detectives, who find themselves in the seedy underworld of Spawn's universe. McFarlane recently told Vulture that he imagined Leonardo DiCaprio in the role of Twitch.