Teen Dating App Has Some Worried: Is 'Yellow' Safe?
The lack of age verification for creating fake profiles on "Yellow" is throwing up red flags.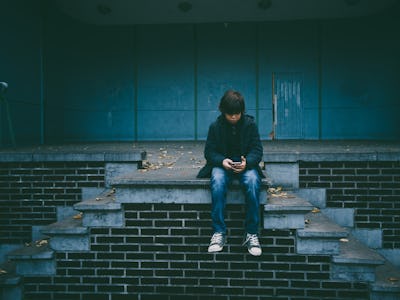 Unsplash / Gaelle Marcel
A social networking app for young people called Yellow is stirring up new concern now that a British daytime TV host has spoken out about just how easy it is to fake a profile.
Yellow was first launched in 2015, premised on the simple facts most teens are teeming with hormones and interested in exploring their sexuality. It was intended to be a ["virtual flirting app for the Snapchat generation"])https://web.archive.org/web/20170117021842/https://medium.com/numa/yellow-the-virtual-flirting-application-for-the-snapchat-generation-4539aab73ef3). After Tinder announced it would be prohibiting underage users from using it, Yellow seemed to fill the hole left in the dating app space for teens. Like Tinder, users get to swipe through profiles of people in their area and begin conversations on the app. Its developers claim that six million people have downloaded it in the past two years.
Since then, various bloggers and reporters — including this one — have noted that the app lacks age verification measures. This could be easily exploited by predatory adults looking to connect with underage people for criminal reasons. Some users have also claimed they were being matched up with strangers of vastly different ages with whom socializing in a flirtatious way would be inappropriate.
Speaking on British television, British actress Nadia Sawalha discussed these concerns. With her daughter Maddie at her side, she was walked through the process of setting up an account. Though the app's policy states users "are not allowed to create a user profile without the permission of your legal representative," there's no real way to verify that the teens who set up the account are abiding by these terms.
"So if I was a predator… this was [all I'd have to do,]" she demonstrated.
Yellow isn't the first platform forced to raise concerns of this nature. The messaging app Kik, for instance, decided to set up a program that automatically scans uploads for known child porn images after it became clear the platform had a problem with child pornography. Aside from this, the fact of the matter there's not a lot parents can do without setting up strict parental controls. That's because there's no foolproof mechanism for ensuring age verification on an app that doesn't simultaneously require a high level of personal data collection. Now that the average age for a kid get their first smartphone is just 10 years old, the need for such a mechanism is arguably more necessary than ever.
As such, the question of whether or not Yellow is safe is hard to answer, but it essentially comes down to the way teens are using it and how parents are monitoring this use. When asked by the New York Times about the safety measures in place, the head of community safety wrote that its strategy involves employing human moderators who look for impostor accounts and blocking of users who are found to have shared inappropriate content.