'Pacific Rim: Uprising' Takes Place Ten Years After the First One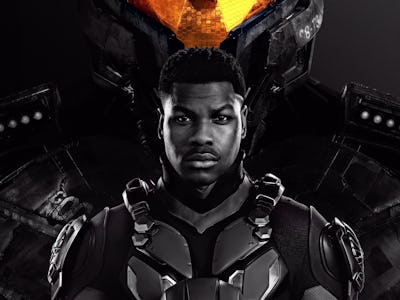 Universal Studios
The uprising has begun. A new website for Pacific Rim: Uprising, which is currently counting down to the film's upcoming panel this Friday at New York Comic Con, has revealed just how much time has passed between the sequel and the previous movie, 2013's Pacific Rim.
On Wednesday, the official Pacific Rim Twitter shared a link to GoJaeger.com, which prompts visitors to input a six-digit entry code. Enter 65*789 (you might want to lower your headphones, BTW) and you'll see a countdown clock that glitches from the last time there was a kaiju attack — blink and you'll miss it's been nine years — down to a "WAR CLOCK: Time Until Next Breach," which ends at Friday, October 5, at 12 p.m. ET.
Details are a little different elsewhere on the site. On the "Remember" page, which you can access at the top, exactly ten years have passed since the events of the first movie, dated January 12, 2025, and named "REMEMBER PENTECOST," referring to the sacrifice of Idra Elba's character Stacker Pentecost. In 2035, the "JAEGER UPRISING" takes place.
"It's been ten years since The Battle of the Breach and the oceans are still, but restless," reads the description. "Vindicated by the victory at the Breach, the Jaeger program has evolved into the most powerful global defense force in human history. The PPDC now calls upon the best and brightest to rise up and become the next generation of heroes. When the Kaiju threat returns, we will be ready."
It's only been four years since the last Pacific Rim smashed its way into theaters, but now, the new website confirms that an entire decade has passed within the film's fictional universe. And that's more than enough time for a new generation of heroes to rise to the ocassion.
Pacific Rim: Uprising will hit theaters on February 23, 2018.