A New Book Might Have Spoiled Emilia Clarke's 'Han Solo' Story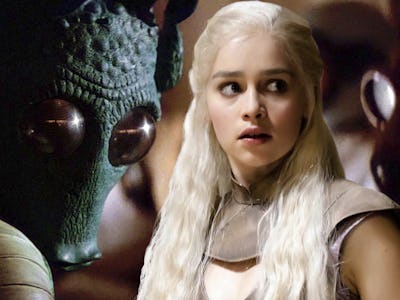 Lucasfilm, HBO
Not only did Han Solo shoot first, but he also got the girl. One story in a new Star Wars book, Star Wars: From A Certain Point of View, might have revealed some details about the upcoming, as-yet-unnamed Han Solo standalone film, as well as Emilia Clarke's (Game of Thrones) role in it.
As reported by Big Shiny Robot, one story in From a Certain Point of View, "The Luckless Rodian" by Renee Ahdieh, reveals that the bounty hunter Greedo's grudge with Han Solo wasn't just work-related. Apparently, Greedo and Han were once involved in a love triangle with a woman named Uncelta.
Despite her unfortunate name, Uncelta was "everything Greedo cherished in a woman." And she chose Han over him. Ouch.
There aren't too many details revealed about Uncelta in the story, but her presence feels significant. What's the point of adding more canon to Han Solo's backstory when we're months away from getting a feature-length film about his past? It stands to reason that Uncelta could be included in the film. And, that would mean Greedo could also make an appearance.
As of right now, there's no official word about what sort of characters Clarke and Thandie Newton (Westworld) will be playing. Clarke is certainly more within the realm of a possible love interest for Alden Ehrenreich's Han Solo considering how much closer she is in age to him compared to Newton. Not that age difference has stopped Han in the past.
The untitled Han Solo standalone premieres in theaters on May 25, 2018.
We know Han Solo gets laid, but who else? Check out this video about sex (or lack of) in Star Wars.