How to Watch the Google Pixel 2 Unveiling Live Online
Google's next project is almost here.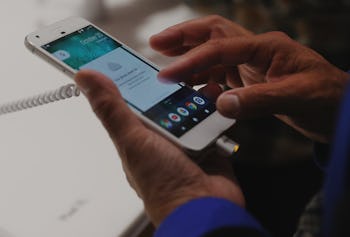 Getty Images / Spencer Platt
Google's next smartphone is almost here. On Wednesday, the company is set to unveil the Pixel 2, the Pixel 2 XL and a slew of other products. The event is taking place in San Francisco, and it's set to be one of the biggest moments in the Android world's year.
The pressure is on for Google to wow again. Just last month, Apple took the wraps off the iPhone 8, iPhone 8 Plus and iPhone X, the latter of which features a 5.8-inch display and face recognition system. The phone is the first new iPhone design in three years, but its $999 price tag has left prospective consumers reeling. Google could swoop in and offer a decent alternative for those less impressed by last month's news.
A number of leaks have revealed what we can expect from Google's next outing. Android Authority reports the Pixel 2 XL, priced from $849, is set to feature a curved display with 2,560 by 1,440 pixels, powered by a 3,520mAh battery. The regular Pixel 2, priced from $649, will boast a 1,920 by 1,080-pixel screen with a 2,700 mAh battery. Both phones will feature fingerprint scanners, a USB-C connection, and the choice of 64GB or 128GB of storage.
Other products expected at the event are a Google Home Mini and Google Home Max smart speakers, direct competitors to the new Amazon Echo line and Apple's upcoming HomePod, which is set to launch this December. Google is also expected to unveil a new Pixelbook laptop and a Daydream View virtual reality headset designed to complement the new smartphone lineup.
The launch follows after Google's purchase of the HTC engineering team behind the original Pixel that launched last year. The deal, which cost a staggering $1.1 billion, shows Google means business on this front.
The event is set to start at these times:
9 a.m. Pacific time
12 p.m. Eastern time
5 p.m. British Summer time
6 p.m. Central European time
12 a.m. China Standard time (Thursday)
3 a.m. Australian Eastern time (Thursday)
To watch the event, either follow this YouTube link, or view the event below when it starts: