'Stranger Things' S2 Character Is a Paranoid Conspiracy Theorist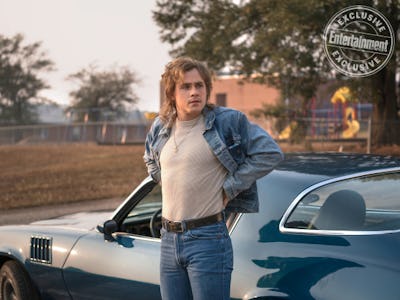 Entertainment Weekly, Netflix
There's a new character coming to Hawkins, Indiana, and he doesn't seem to be taking the move too well. Fans of the Duffer Brothers' hit '80s-centric show Stranger Things don't know too much about Billy, an aggressor of sorts in Season 2 who will be portrayed by Dacre Montgomery (Power Rangers, 2017). So far, Netflix has revealed that Billy is Max's (Sadie Sink) older brother and that his character was inspired by Jack Nicholson's performance in The Shining.
But, on Tuesday, Montgomery posted a new teaser for Season 2 to his Instagram. The projector-style video starts with the disappearance of Will Byers from Season 1 before spiraling into a free-fall of alien-centric and supernatural conspiracies. Billy narrates the whole thing, focusing on the 1984 Olympic games, "new Coke," President Ronald Reagan's "Star Wars" satellites, sunspots, gremlins, ghosts, mermaids, and cyborgs — it's a lot, and Billy connects all of this to Will's disappearance, citing it as the impetus for these "strange happenings" across the globe.
According to Billy, the world is turning "upside down."
Stranger Things Season 2 premieres on Netflix on October 27.