'The Onion' Has a Devastating Set Response to U.S. Mass Shootings
"'No Way To Prevent This,' Says Only Nation Where This Regularly Happens."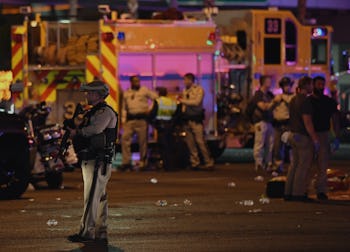 Getty Images / Ethan Miller
In Las Vegas on Sunday night, a gunman opened fire from the windows of the Mandalay Bay Resort into a crowd of music festival-goers. The mass shooting, now the deadliest in modern American history, killed at least 58 people and left at least 515 injured. And, perhaps surprisingly, satire website The Onion had the most poignant response to the attack. It just so happens this isn't the first time the world has seen this response.
"'No Way To Prevent This,' Says Only Nation Where This Regularly Happens," a darkly satirical article from famous mock-news website The Onion, was published for the fifth time on Monday. The city name and specific details — such as the number of people killed and injured — were changed, but, otherwise, the article remained the same. It tells a vague story about what happened before quoting a fake source that echoes "sentiments expressed by tens of millions of individuals who reside in a nation where over half of the world's deadliest mass shootings have occurred in the past 50 years and whose citizens are 20 times more likely to die of gun violence than those of other developed nations."
The 200-word article made the rounds on Twitter on Monday as activists started calling for increased gun control, especially of automatic weapons. The Onion seemed to echo people's thoughts on the violence, reminding people of the frequency with which mass shootings occur and the vague way in which U.S. lawmakers tend to respond.
As many were quick to point out, shooting suspect Stephen Paddock is not the first mass shooter to, allegedly, take lives in the United States in 2017 with a gun. He also will probably not be the last, just as this is probably not the last time The Onion will run this article.
As reported by The Guardian in 2016, the U.S. has an overall gun violence problem, not just a mass shooting problem. Mass shootings in the U.S. have grown "in both frequency and fatalities … But next to the thousands of lives lost each year to suicide and more commonplace acts of [gun] violence, it becomes clear that mass shootings are only a tiny part of America's gun problem."
The Onion has previously published the "'No Way to Prevent This'" article on four occasions before Monday: after the 2014 Isla Vista massacre and three times in 2015 after the Charleston church shooting, the Umpqua Community College shooting in Roseburg, Oregon, and the San Bernardino attack, respectively.