Colorful 'Justice League' Posters Rip Off 'Thor: Ragnarok'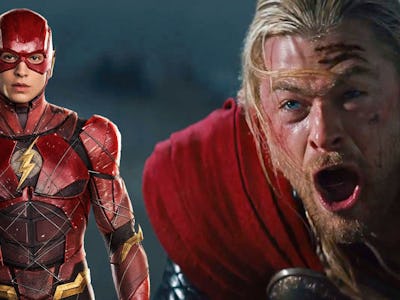 Marvel / Warner Bros. Pictures
Who wins in a battle between the Justice League and Thor's Revengers from Ragnarok? As awesome as it would be to actually see the Norse God of Thunder take on the Scarlet Speedster while Aquaman spears Hulk with his trident, this conflict has more to do with colorful superhero marketing than it does any kind of battle.
A new series of character posters for the upcoming Justice League frames each hero with a backsplash of color, which is almost identical to a similar marketing scheme used by Marvel for Thor: Ragnarok only a few weeks ago. Thor and Flash are set against red backdrops with Odin and Wonder Woman against yellow-orange, so on, and so forth.
Both sets look totally awesome, but it's hard not to see the parallels and wonder how deliberately DC is totally aping Marvel's marketing strategies.
The Justice League aesthetic is simpler, with softer backdrops of solid colors with faded edges.
The Thor: Ragnarok posters, on the other hand, are flashier with the title dead center and the characters swatched in bright dust akin to what you see during a Color Run:
Thor: Ragnarok will see the Norse god's beloved hammer destroyed by the ultra-powerful Hela before he's banished to Sakaar and forced to fight in the arena against his "friend from work," the Incredible Hulk. On his quest to stop Hela and save Asgard, he'll put together a team called the Revengers that will include Hulk, his adopted brother Loki, and newcomer Valkyrie.
Justice League will be DC's first full Avengers-style hero team-up in which Batman and Wonder Woman bring together the titular Justice League to fight Steppenwolf and his army of Parademons.
Thor: Ragnarok hits theaters November 2, and Justice League follows two weeks later on November 17.
If you liked this article, check out this video that asks the question: Is Wolverine circumcised?