Mark Hamill Was Right About When 'The Last Jedi' Trailer Will Drop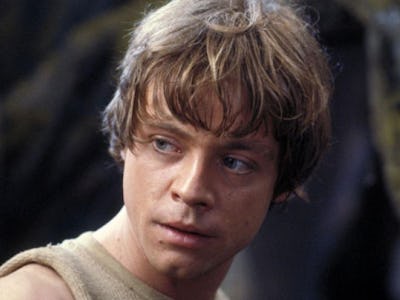 Lucasfilm
Luke Skywalker spilled the beans on the premiere date of the Star Wars: The Last Jedi trailer, then failed miserably at trying to pick the beans back up. Actor Mark Hamill probably did tell the world when the next Last Jedi trailer will premiere, despite the recent back peddling he's done.
On September 19, Hamill responded to a fan on Twitter who asked when we could expect to see the next Last Jedi trailer. Hamill responded with a since-deleted tweet that said, "Watch Monday Night Football on Monday October 9th — for no reason in particular."
This, of course, resulted in an online firestorm amongst Star Wars fans. "Confirmation" from Luke Skywalker himself about when the next Last Jedi trailer will drop? Hamill is known to be a troll and a jokester, but it didn't seem likely he would joke about something like this.
There hasn't been new Last Jedi footage since the behind-the-scenes video premiered on July 17 — and even that was more technical stuff than anything to do with the story.
Hamill, who fans are guessing received an angry phone call from Lucasfilm, deleted his original tweet and tried to calm the waters by playing dumb:
But the damage was already done.
Fansite Star Wars News Net says its "confirmed" Hamill's announcement on September 19, quoting a long-time but unverified source. So, while you should still take this news with a grain of salt, there's no harm in keeping an eye on the television on October 9 … and on YouTube immediately afterward.
If you liked this article, check out this video on three reasons why Luke will turn to the Dark side in The Last Jedi.