Power Rangers Fans Are Freaking Out Over 'Star Trek: Discovery' Cameo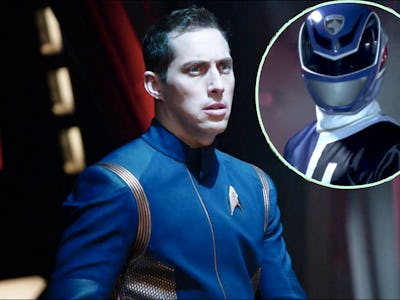 CBS, Saban Brands
Here's a crossover no one could have expected. Shortly after the premiere of Star Trek: Discovery on CBS and CBS All Access on Sunday, hardcore Power Rangers fans took to Twitter to express excitement from seeing a familiar face.
Chris Violette, who played Sky the Blue Ranger in Power Rangers S.P.D. in 2005, had a minor role in the pilot episode of Star Trek: Discovery as Britch Weeton, a bridge officer of the USS Shenzhou. Although Britch Weeton doesn't seem to have a secret superhero identity, or any identity really, his Shenzou uniform looks a lot nicer than the spandex Violette had to wear while fighting alien monsters a decade ago.
What makes the connection extra fun is that Violette starred in a heavily-sci-fi influenced season of Power Rangers, in which the superhero team was a police force that fought alien criminals. The "S.P.D." of Power Rangers S.P.D. stood for "Space Patrol Delta."
Although it's unlikely Violette will have a recurring role in Star Trek, he did have screentime with Hong Kong film legend Michelle Yeoh, who plays Captain Georgiou in the new series. This was enough for the fandom intersection of Star Trek and Power Rangers to tweet their surprise, and delight, from seeing a former Blue Ranger on a starship bridge.
Of course, fans can't resist but think Power Rangers and Star Trek now share a universe.
If you're interested in seeing Britch Weeton's life before Starfleet, Power Rangers S.P.D. is streaming on Netflix.
Star Trek: Discovery airs Sundays on CBS All Access.
If you liked this article, check out this video on why Klingons look different in Star Trek: Discovery.