'Star Trek: Discovery' Photos Look Like J.J. Abrams Reboot Movies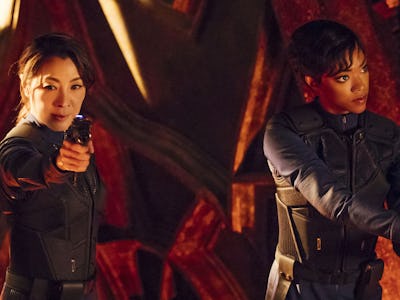 Star Trek
First Officer Burnham and Captain Georgiou look a lot like Chris Pine's Kirk and Zachary Quinto's Spock did in the 2009 version of Star Trek, and that's a good thing.
On Thursday, new photos from the first two episodes of the CBS All Access series Star Trek: Discovery showcase all the sheen and production value of the new reboot films that started with J.J. Abrams. The Starfleet uniforms look dope, the Klingons look fierce, and all that sand and dirty look as soft as snow. The lines between TV and movies have been incredibly blurred in recent years — HBO's Game of Thrones easily edge out most epic war movies — and "cheesy" is about the last word anyone can use to describe Discovery.
While of course Star Trek faithful will be tuning into the new prequel series, casual fans who are only familiar with the big movies should still feel at home watching the crew of the USS Discovery at work.
In most of the photos, Sonequa Martin-Green — best known for playing Sasha on The Walking Dead — and Michelle Yeoh are seen exploring before (presumably) running into some mean Klingons, led by T'Kuvma (Chris Obi). There is also a crystal clear shot of Sarek (James Frain), the Vulcan Ambassador.
Check out the photos below.
Star Trek: Discovery will premiere on CBS All Access on September 24.
If you liked this article, check out this video on why Klingons look different in Star Trek: Discovery.