A 'Star Trek' Fan's Guide to Why Michelle Yeoh Kicks Ass
Meet the Captain of the USS Shenzhou.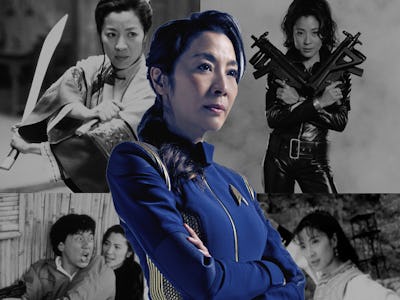 CBS
It's been a decade since there has been any Star Trek on TV, but that will change when Star Trek: Discovery premieres this month. Boldly going where no Trek has gone before — online streaming — the new series has a new leader on deck, Captain Philippa Georgiou, played by Hong Kong icon Michelle Yeoh.
There is healthy speculation that Yeoh's Georgiou won't actually make it to the end of Discovery. The series's main character, First Officer Michael Burnham (Sonequa Martin-Green), will begin serving on Georgiou's ship, the Shenzhou, before moving to the titular Discovery under Captain Gabriel Lorca (Jason Isaacs). It's not hard to imagine that she'll have to switch posts due to some sort of Ned Stark-like tragedy that befalls Yeoh's character.
Still, hardcore sci-fi fans unfamiliar with Yeoh may be wondering what the big deal is surrounding the 55-year-old actress. Here is an introductory guide to Michelle Yeoh, the (temporary?) new captain of Star Trek.
Rise to Stardom
Yeoh, born in Malaysia to a mixed Chinese family, was a star ballerina in London throughout her teenaged years until a spinal injury forced her to put her ballet dreams aside. Her expertise in dance would prove very fruitful in her future career as a martial arts action star.
In her early 20s, Yeoh was crowned Miss Malaysia in 1983, which scored her a Guy Laroche TV commercial with Jackie Chan. The two would later work together in one of Chan and Yeoh's most popular action movies to date, Police Story 3 (titled Supercop in the United States).
Because of the Guy Laroche gig, Yeoh was sought after by a new film studio in Hong Kong, D & B Films. They cast Yeoh, alongside American action movie starlet Cynthia Rothrock, in the movie Yes, Madam, a seminal film that later influenced a ton of other movies and anime like Ghost in the Shell and Gunslinger Girl. In the making of Yes, Madam, Yeoh was able to perform all of her stunts thanks to her deep background in dance.
The Return
Yeoh briefly retired from acting to enjoy her first marriage. When she divorced, Yeoh reunited with Jackie Chan for Supercop, which did gangbusters in Hong Kong before getting recognized around the world. Yeoh's chemistry with Chan re-cemented her status as an action star, which she followed up with hits like The Heroic Trio and Tai Chi Master in 1993 and Wing Chun Master in 1994.
Hollywood
Yeoh broke into Hollywood as a Bond girl, co-starring with Pierce Brosnan in 1997's Tomorrow Never Dies. Brosnan had a lot of high praise for his co-star, especially towards the fact she did all of her fight scenes in the film.
Then, in 2000, Yeoh starred in Crouching Tiger, Hidden Dragon, still one of the biggest, most prolific martial arts movies of all time, which snagged an Oscar nomination during the 73rd ceremony in 2001. If Michelle Yeoh wasn't yet a bonafide star then, she certainly was one now.
Recent Years
Yeoh followed Crouching Tiger with a number of diverse roles. She became a superhero in Silver Hawk in 2004 and exercised her dramatic chops in Memoirs of a Geisha (2005) and The Lady (2011), where Yeoh played Nobel laureate Aung San Suu Kyi. In the late 2000s, Yeoh returned to wuxia, starring in films like True Legend and Reign of Assassins. In 2016, she starred in Crouching Tiger, Hidden Dragon: Sword of Destiny, a direct sequel released by Netflix. Critics weren't into it, but Yeoh still proved that she can still kick ass.
Next year, Yeoh will join the all-star Asian-American cast for Crazy Rich Asians, an adaptation of Kevin Kwan's best-selling novel about — well, a crazy-rich family from Singapore who clash with their American children. It'll be one of the first times audiences anywhere see Yeoh do straight comedy.
Boldly Going
That brings us to Star Trek: Discovery. Last year, Yeoh was cast in the series, which garnered plenty of attention, not the least of which because of Yeoh's gender and ethnicity. Space is big and diverse, and there have been female captains in Trek before (Janeway fans, where you at?). But Yeoh is an interesting figure. Like Yen's casting in Rogue One, Yeoh is a prolific Asian star who still has yet to generate a mainstream audience in the states.
Most Starfleet captains rose to fame after their time on the series, but Yeoh is coming in already a star with a long career behind her. Paradoxically, Yeoh isn't prominent in so-called nerd circles. Imagine if, say, Nathan Fillion or John Barrowman, neither of whom have the profile of Yeoh but boast big fandoms, were chosen to captain the Shenzhou.
This isn't to say who is or isn't right for the role. It's just been fascinating to witness an established performer like Yeoh forge ahead in new territory. Then again, nothing is more Star Trek than exploring the unknown.
Star Trek: Discovery will be released on September 24 on CBS All Access.
If you liked this article, check out this video on why Klingons look different in Star Trek: Discovery.