An Adult's Guide to Danielle Bregoli, AKA Bhad Bhabie
The "Cash Me Ousside" girl has made an unapologetic transition.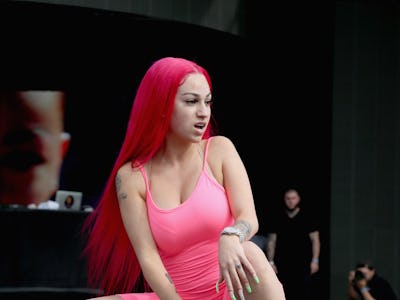 Gary Miller/Getty Images Entertainment/Getty Images
Danielle Bregoli's parodic, bizarre, mesmerizing command of the English language made her a meme, and now it might make her a star as she embarks on a rap career with the stage name Bhad Bhabie, culminating last week with a deal with Atlantic Records, home of Ed Sheeran, Bruno Mars, Led Zeppelin, and Aretha Franklin.
The 14-year-old's appearance on Dr. Phil in September 2016 went viral after Bregoli goaded the studio audience for laughing at her and invited them to fight her after the show. Her mother brought Bregoli from Floria to Los Angeles and onto Dr. Phil for precisely this kind of behavior- Bregoli was disrespectful, physically aggressive, and had a history of stealing cars. Dr. Phil made fun of Bregoli's "accent," a warped, bastardized version of African-American Vernacular English, which she claimed was from "the streets."
"Cash me ousside, how bout dah?" Bregoli barked at the crowd of middle-aged women, and thus the meme was born.
But Bregoli wasn't always in on the joke, and her appearance on Dr. Phil brought backlash from people who deemed Bregoli (and sometimes her mother) to be trashy, "ghetto," and undeserving of fame, especially fame rooted in disrespecting the woman who raised her. Others criticized the way that Bregoli received attention for her appropriation of black culture, from her vocal affectations to her style- large hoop earrings, long fake fingernails and grills- while black girls exhibiting the same bad behavior faced actual consequences. Eventually, the meme ran its course, but Bregoli was not finished with her proverbial fifteen minutes of fame.
Bregoli and her mother found themselves in the spotlight again in February when TMZ reported that Bregoli attacked a passenger on an airplane after the woman began a physical altercation with Bregoli's mother. Bregoli, her mother, and the passenger involved in the altercation were all banned from Spirit Airlines for life as a result of the incident.
February also marked Bregoli's first official foray into the rap world, when she starred in the "unofficial music video" for Everything 1K, a song by upcoming rapper Kodak Black.
Kodak Black, who hails from Florida like Bregoli, is known for collaborating with artists like TK and for spending time in jail in South Carolina for sexual battery charges. He and Bregoli have since been pictured together on her Instagram.
In July, Bregoli also posted a picture that appeared to show her dining with Kim Kardashian, which is honestly wild. What did they talk about?
But the release of Bregoli's first single as Bhad Bhabie on August 24 was the next time she got a taste of the popularity and exposure she enjoyed after her Dr. Phil appearance. The single, titled These Heaux, debuted at #77 on the Billboard Hot 100 Chart and the video for the song has been viewed almost 29 million times since its August 30 debut.
Last week, Bregoli announced that she had signed a deal with Atlantic Records, home to (fellow?) rising stars Lil Uzi Vert and NBA Youngboy. And on Thursday she released a combined music video for two new singles, "Hi Bich" and "Whatchu Know." The first half of the video shows Bhad Bhabie terrorizing a court room, heading to the electric chair, and then rising from the grave in trappings reminiscent of the Virgin Mary. The second half of the video is more straightforward, with a camera following Bhad Bhabie as she spits bars.
Reactions to her newest singles have been surprisingly positive, given the reception that Bregoli has received along every other leg of her journey through fame.
While calling Bhad Bhabie "this generation's defining artist" is a stretch, because she has three songs and is notably not Rihanna, her music is much better than it could be. Her sound has elements of the robotic hum that Uffie used in "Pop the Glock" the school-yard sing-song hater-baiting present in Kreayshawn's "Gucci Gucci," which I knew every single word to in 2011. The production, courtesy of another recent Atlantic signee Ronny J, is solid, Bhad Bhabie's flow is coherent and her braggadocio on lines like "Grown as hell and you still hatin'?/I look at you and thank God I made it!" is, frankly, fun.
Although charges of cultural appropriate leveled at Bhad Bhabie are warranted, it's notable that she is not the only young, non-white rapper to have met with viral success in 2017. Prominent examples include 12-year-old Matt Ox, whose fidget spinner-laden video for "Overwhelminggreat" is a visual delight and 18-year-old Brian Immanuel, also known as Rich Chigga, whose song "Gospel" with XXXTentacion and Keith Ape, peaked at #7 on the Billboard Bubbling Under R&B/Hip-Hop Singles Chart. Ox is white and Immanuel is Asian, hailing from Indonesia. Another rapper, 17-year-old Lil Pump, frequently says the n-word in his songs but has yet to confirm his ethnicity, with some speculating that he is of Mexican or Latinx heritage.
Bregoli is not normal, but she's still a 14-year-old girl, and that fact is never more apparent than when watching her Youtube videos. Her makeup tutorials, reaction videos, and occasional rants all show the awkwardness that comes with being young. In one, a fan Q&A, Bregoli reveals that she does not smile in pictures with fans because she doesn't like the way her mouth looks when she does so- a painful, classic teenage girl insecurity.
In the same video, she says that she likes being famous, because it keeps her from getting in trouble- she was sentenced to five years probation this summer after she pled guilty of grand theft, marijuana possession, and filing a false police report. "It gives me a reason to stay out of trouble and not do dumb shit," Bregoli says, eyes on her cell phone instead of the camera.
Because if you'd gotten famous at the age of 14, how classy would you be? How bow dah?