Here Are All the Netflix Originals Premiering in October
We're talking beyond 'Stranger Things' Season 2 (but that, too).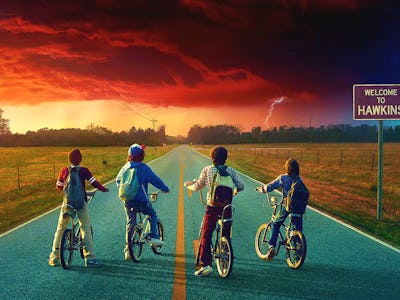 Netflix
Now that it's generally getting colder around the world, Netflix seems happy to give you a few big reasons to stay indoors with their new batch of Originals.
October will see new seasons of Stranger Things and Voltron: Legendary Defender hit the platform. Stephen King fans can follow up the September releases of It and Gerald's Game with 1922, which is based on one of the author's short stories. And a new series about FBI agents and serial killers produced by David Fincher, among others, looks like a sure thing.
Whatever your interests, there should be something among October's Netflix Originals that catches your eye. If not, you can always check out what September had to offer to see if you missed anything, or you have something to look forward to toward the end of the month.
Available on 10/3
Rodney Carrington: Here Comes The Truth
Country music artist and comedian Rodney Carrington brings another comedy special to Netflix.
Available on 10/5
Bonus Family (Bonusfamiljen): Season 1
Bonus Family is a Swedish dramedy that follows a new couple (played by Vera Vitali and Erik Johansson), their exes (Petra Mede and Fredrik Hallgren), and their children (Frank Dorsin, Amanda Lindh, and Jacob Lundqvist), who all face the challenge of working as one big family.
Available on 10/6
ID-0: Season 1
ID-0 is set in the far-flung future, in a time when robots called I-Machines are used to mine for a new mineral in deep space. The anime centers on Maya Mikuri, an Alliance Academy student who gets caught up in a pirate attack while operating on an I-Machine, and ends up working on an excavation ship.
Skylanders Academy: Season 2
Based on the toys-to-life video game series, Spyro the Dragon, Stealth Elf, Eruptor, Master Eon, and Jet-Vac return to fight Kaos and the other villains of Skylands in the second season of Skylanders Academy. The voice cast includes Justin Long, Ashley Tisdale, and Jonathan Banks.
Suburra: Season 1
A prequel to the 2015 film of the same name, Suburra is an Italian series that centers on a conflict between organized crime, corrupt politicians, and the Church. Alessandro Borghi, Giacomo Ferrara, and Eduardo Valdarnini star.
The Death and Life of Marsha P. Johnson
David France's documentary explores the murder of the titular LGBTQ activist, which was ruled a suicide by police, as well as her life and legacy.
Word Party: Season 3
Baby animals Bailey, Kip, Franny, and Lulu return for another season of the animated learning party.
Available on 10/10
Christina P: Mother Inferior
Comedian Christina Pazsitzky talks motherhood, being raised to show no feelings by her "crazy" parents, and attempts to explain why people hate millennials in this stand-up comedy special.
Available on 10/12
Fe de Etarras
Fe de Etarras is a dark comedy that centers on an oddball group of armed terrorists in 2008, while Spain is competing in the World cup. The film stars Javier Cámara, Julián López, Miren Ibarguren, and Gorka Otxoa.
Available on 10/13
El Especial de Alex Fernández, el Especial
Alex Fernández appears in this new Netflix film.
Kingdom of Us
Kingdom of Us examines how a father's suicide affected his wife and seven children. The documentary is directed by Lucy Cohen.
MINDHUNTER: Season 1
Based on the book Mind Hunter: Inside FBI's Elite Serial Crime Unit Mind Hunter: Inside FBI's Elite Serial Crime Unit by Mark Olshaker and John E. Douglas, this series follows two FBI agents who talk to imprisoned serial killers, and try to take what they learn from them to solve ongoing cases. The series stars Jonathan Groff and Holt McCallany as the two agents, and is executive produced by David Fincher, Charlize Theron, Josh Donen, and Ceán Chaffin.
Super Monsters: Season 1
As the title suggests, Super Monsters is about preschoolers with superpowers that cause them to change into monsters at night. The series is all about building up the kindergarten readiness skills of children.
The Babysitter
The life of a lonely, 12 year-old boy (Judah Lewis) is endangered when he learns that the babysitter he's attracted to (Samara Weaving) is part of a satanic cult.
The Meyerowitz Stories (New and Selected)
Three adult siblings (played by Ben Stiller, Elizabeth Marvel, and Adam Sandler) contend with grudges and their abrasive father (played by Dustin Hoffman) in this Noam Baumbach-directed film.
Voltron: Legendary Defender: Season 4
The Paladins assemble the Voltron Coalition to fight the Galra Empire in Legendary Defender's fourth season, which is technically the second half of Season 3, as Netflix made the decision to split the season in two after it had already been produced.
Available on 10/17
Patton Oswalt: Annihilation
In April 2016, comedian and actor Patton Oswalt endured the loss of his wife, Michelle McNamara. Oswalt's latest comedy special will use material he created while working through his grief, as well as tackle subjects like the current political climate and social media angst.
Slasher: Guilty Party
The second season of the horror anthology series follows former summer camp counselors, who have to back back to a remote campground for evidence of a crime they committed when they were younger. Leslie Hope leads a cast of returning Slasher actors for the second season of the series.
Available on 10/20
1922
Based on a short story of the same name by Stephen King, a rancher convinces his son to help kill his wife for financial gain. The film stars Thomas Jane, Molly Parker, and Dylan Schmid.
Haters Back Off: Season 2
Colleen Ballinger returns as her character, the talentless, overconfidant Miranda Sings, who's still trying to make it big on YouTube.
One of Us
One of Us looks at the difficulties and sometimes life-threatening dangers of leaving the world of Hasidic Judaism.
The Day I Met El Chapo: The Kate del Castillo Story
This three-part series details the day Mexican actress Kate del Castillo met the infamous drug lord El Chapo.
Wheelman
In this Jeremy Rush-directed film, Frank Grillo stars as a getaway driver who gets involved in a bank robbery that goes wrong. Now, he must race to find out who double-crossed him with his family and a car full of money at stake.
Available on 10/24
Wanted: Seasons 1 & 2
Two strangers (Rebecca Gibney and Geraldine Hakewill) are the main suspects in a fatal carjacking, resulting in them fleeing from authorities with a vehicle full of cash.
Available on 10/27
Stranger Things: Season 2
Set a year after the events of the first season, Stranger Things: Season 2 will focus Dustin, Mike, Will, Lucas, and Eleven (somehow) around Halloween in 1984. The season will further explore the mythology behind Will being taken to the Upside Down, and at some point see the kids suiting up as Ghostbusters.
Joan Didion: The Center Will Not Hold
In this documentary, filmmaker and actor Griffin Dunne examines the life of his aunt, influential writer Joan Didion.
Available on 10/30
Judah Friedlander: America Is The Greatest Country In The United States
In Judah Friedlander's stand-up comedy special, the actor and comedian tackles many pressing global issues, including racism, sexism, climate change, and fascism.
Available on 10/31
Zumbo's Just Desserts: Season 1
Zumbo's Just Desserts is an Australian baking reality competition series, which is hosted by Adriano Zumbo and Rachel Khoo, with Gigi Falanga as an assistant.