Here's All The Netflix Originals Dropping In September
From 'Bojack Horseman' to a 'Final Fantasy' with a crazy title.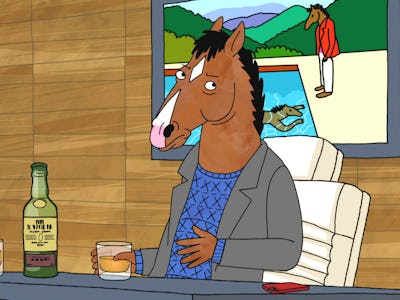 Netflix
As summer draws to a close, a healthy dose of Netflix Originals provide plenty of reasons for you to keep coming to the streaming platform.
In September, the wait will finally be over for more Bojack Horseman and Narcos. If you're hankering for more Stephen King after seeing the new It in theaters, you'll be able to watch the adaptation of his novel Gerald's Game on Netflix. And the platform will be adding some interesting new animated titles to their line-up, like comedy Big Mouth, and — shock! — The Magic School Bus Rides Again.
That's right. The reboot of the '90s animated series is almost upon us.
Even if you're not that curious about what will be different in this new version of The Magic School Bus, though, you're bound to find something that suits your fancy among the rest of September's Netflix Originals. Check them out:
Available 9/1/2017
FINAL FANTASY XIV Dad of Light: Season 1
Based on a true story, this Japanese series follows a father (Ren Osugi) and son (Yudai Chiba) who connect over the game FINAL FANTASY XIV.
LEGO Elves: Secrets of Elvendale: Season 1
A teenage guardian does her best to protect the parallel world of Elvendale in this show based on the webseries.
Little Evil
In this comedy from Eli Craig, the director of Tucker & Dale vs. Evil, Adam Scott and Evangeline Lilly star as a newly-wed couple raising a child who might be the antichrist.
Narcos: Season 3
Narcos: Season 3 will see the good guys up against four kingpins, leaders of the cartel The Gentlemen of Cali.
Resurface
From the award-winning team that made Slomo, Resurface is a documentary about war veterans who use surfing as therapy for their PTSD.
Available 9/5/2017
Marc Maron: Too Real
Marc Maron's stand-up comedy special deals with mortality, relationships, art, documentary films, and the modern age.
Available 9/8/2017
#realityhigh
Starring Kate Walsh, John Michael Higgins, Nesta Cooper, Alicia Sanz, Jake Borelli, and Keith Powers, #realityhigh centers on a geeky girl (Cooper) who finds herself the target of her crush's ex (Sanz).
BoJack Horseman: Season 4
The surprisingly deep show about a jaded, Will Arnett-voiced talking horse in Hollywood returns.
Fabrizio Copano: Solo Pienso En Mi
Among other things, Copano's stand-up special tackles sperm banks and family WhatsApp groups.
Greenhouse Academy: Season 1
At an elite boarding school for future leaders, two rival dormitories join forces to foil an evil plot.
Joaquín Reyes: Una y no más
In Netflix's first Spanish comedy show, stand-up comedian Reyes looks back at some of his most successful sketches from a career that spans two decades.
Spirit: Riding Free: Season 2
Based on the 2002 film Spirit: Stallion of the Cimarron, Riding Free follows a girl nicknamed Lucky, her horse Spirit (the offspring of the main protagonists of the original film), and her friends and their horses as they go on adventures.
The Confession Tapes: Season 1
A true crime documentary, The Confession Tapes digs into cases where convicted murderers claim their confessions were coerced or false.
Available 9/12/2017
Jeff Dunham: Relative Disaster
Comedian Jeff Dunham takes his puppets to Ireland to discuss family and politics in this special.
Available 9/15/2017
American Vandal: Season 1
American Vandal is a true-crime satire that deals with the consequences of 27 cars being vandalized with graffiti dicks in a high school parking lot.
First They Killed My Father
This Angelina Jolie-directed film, which came under fire in July for its reported casting process, is a historical biographical thriller about the experiences of Cambodian author Loung Ung during the Khmer Rouge period. Sareum Srey Moch plays Loung Ung in the film.
Project Mc²: Part 5
A team of super spy friends uses their knowledge of science and technology to protect the world in Project Mc².
Strong Island
This documentary looks at the racially motivated murder of filmmaker Yance Ford's younger brother, William Ford Jr., and the judicial system that acquitted his killer.
VeggieTales in the City: Season 2
Talking vegetables Larry, Bob, and co. continue to go on adventures in the city.
Available 9/19/2017
Jerry Before Seinfeld
In Jerry Seinfeld's first stand-up special, the comedian will perform jokes that helped start his career, unveil every joke he's written since 1975, and more.
Available 9/22/2017
Fuller House: Season 3
The sequel series to the 1985 show continues to follow the lives of the Fuller family and friends.
Jack Whitehall: Travels with My Father: Season 1
Travels with My Father is a travel documentary/road trip series following comedian Jack Whitehall and his father, Michael Whitehall.
Available 9/26/17
Terrace House: Aloha State: Part 4
Terrace House: Aloha State is a Japanese reality series set in Hawaii about strangers sharing a single roof. Naturally, conflict ensues.
Available 9/29/2017
Big Mouth: Season 1
From creators Nick Kroll and Andrew Goldberg, Big Mouth is an animated comedy about the embarrassment-filled journey that is puberty. Kroll, John Mulaney, Maya Rudolph, Jordan Peele, Jason Mantzoukas, Fred Armisen, Jenny Slate, and Jessi Klein provide voices for the series.
Club de Cuervos: Season 3
Club de Cuervos is a Mexican series about heirs to a football team (played by Luis Gerardo Méndez and Mariana Treviño) who battle to determine who will inherit it following the death of their father.
Gerald's Game
Gerald's Game, an adaptation of the Stephen King book of the same name, stars Carla Gugino as a woman who accidentally kills her husband (Bruce Greenwood) during a kinky sex game in which she's handcuffed to the bed. Stuck to the bedframe in a remote cabin, she begins to hallucinate.
Real Rob: Season 2
Real Rob centers on the family life and career of actor Rob Schneider.
Paul Hollywood's Big Continental Road Trip: Season 1
In this series, The Great British Bake-Off judge Paul Hollywood takes a tour of Europe in various vehicles, with the help of celebrities from the places he's visiting.
Our Souls at Night
Jane Fonda and Robert Redford star as two widowed neighbors who develop a connection.
The Magic School Bus Rides Again: Season 1
Kate McKinnon voices Ms. Fiona Felicity Frizzle, sister to the OG Ms. Frizzle, in this revival of the '90s animated series.