HBO's Plan for a Fifth of 'Game of Thrones' Spin-Offs Just Got Bigger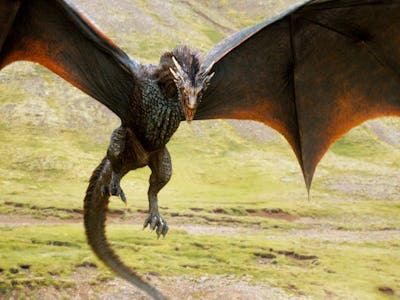 HBO
There are now enough potential Game of Thrones spin-offs to rival the War of the Five Kings. The writer behind some of the best episodes of the HBO show is working with author George R. R. Martin on a fifth possible prequel series.
What Happened
On Wednesday, Entertainment Weekly broke the news that prolific Game of Thrones writer and co-executive producer and co-executive producer Bryan Cogman is working on a follow-up series that's also set in the world of Westeros, and he's working with A Song of Ice and Fire creator George R. R. Martin. The author is also involved in the other four potential spin-offs, which were announced back in May of 2017. Martin had hinted about a fifth spin-off on his blog, but EW's report that Cogman's behind the effort confirms it — and it's a big deal.
What It Means
Game of Thrones showrunners David Benioff and Dan Weiss have already said they won't be involved in any of the potential GoT spin-offs, opting instead to work on a controversial new show about a world where the South won the Civil War. Not counting Martin's involvement, none of the writers attached to the other spin-offs have ever written for GoT before, whereas Cogman is the show's third-most credited writer. His credits include "The Laws of Gods and Men" (the one with Tyrion's trial) and "Kissed by Fire" (the one with Jaime and Brienne's revealing bath). Those are two of the show's best episodes, but he also wrote "Unbowed, Unbent, Unbroken" the one that features both a horrible Dorne fight scene and Sansa Stark's rape. That episode is widely regarded to be the worst hour the show has ever done.
So, with several big hits (and one huge miss) under his belt, Cogman's got more experience with Game of Thrones than any of the other potential writers. His project, the exact details of which are still a mystery, seems like it would probably be more in line with the Thrones audiences have come to know and love over the past seven seasons, for better or worse.
What's Next
None of the potential spin-offs will air until the main Game of Thrones series ends, which might not be until 2019. All we know about the content of these five would-be series is that they won't be about Robert's Rebellion or Martin's Dunk and Egg novellas, and there won't be any familiar Game of Thrones characters.
It's unlikely that HBO will greenlight all five of the spin-offs, but fans can probably expect to see at least one of 'em by 2020 at the earliest.
If you liked this article, check out this video about zombie dragon fire in Game of Thrones.