NASA Images Show Hurricane Jose's Path Along the U.S. East Coast
Heavy rains are expected in some coastal regions starting Tuesday.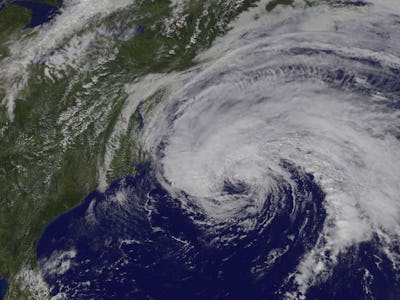 NASA/NOAA GOES Project
On Tuesday morning, the National Hurricane Center issued its latest advisory on Hurricane Jose, which is making its way up the east coast of the United States. Currently a Category 1 hurricane, Jose is predicted to cause heavy rain over southern New England and eastern Long Island through Tuesday and Wednesday. The National Hurricane Center, a division of the National Oceanic and Atmospheric Administration, predicts that the eye of the storm will remain over the Atlantic Ocean. If this prediction holds true, eastern states should be spared the full force of the hurricane, which is strongest in the eye wall, the stormy region bordering the eye.
On Monday, NASA released a series of striking satellite images that show Jose's path. The first, taken by NASA-NOAA's Suomi NPP satellite on Sunday afternoon, shows Jose off the coast of the Carolinas. (For reference, Florida, Cuba, and the Bahamas are in the lower left corner of the image.)
The second image was taken on Monday. It shows Jose creeping up the coast, significantly closer to the Carolinas.
In this image, taken by NOAA's GOES East satellite, you can see the storm centered about 265 miles east-southeast of Cape Hatteras, North Carolina.
Assuming that the National Hurricane Center predictions for Jose are accurate, the eastern United States should avoid significant damage from the storm. Some parts of Martha's Vineyard, Nantucket, and Cape Cod could experience isolated flooding from 3 to 5 inches of rain. Generally, though, Jose should not be very severe.
The NHC warns, of course, that if Jose deviates left of its predicted path, the likelihood and magnitude of its effects could be far worse than current predictions call for.
See also: Hurricane Maria as Seen from Space Shows Path To Puerto Rico, USA and These 3 Hurricane Maria Maps Show How It's Getting Stronger