'Samurai Jack' Has a Surprisingly Quiet Origin Story
You have all the chatter on 'Powerpuff Girls' and 'Dexter's Laboratory' to thank for 'Samurai Jack'.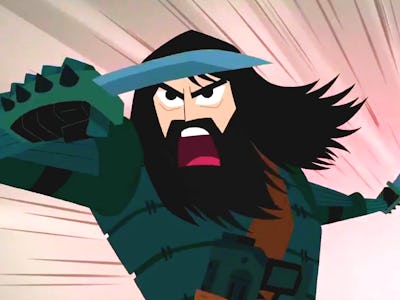 Warner Bros.
Samurai Jack's origins seem firmly rooted in a healthy interest in swords, samurai culture, and the bushido code. But as it turns out, the show's creation also has a lot to do with two series that Genndy Tartakovsky created before: The Powerpuff Girls and Dexter's Laboratory. Fans of all three shows might notice that there was a lot more talking in Tartakovsky's earlier efforts.
What Happened
On September 17, Indiewire posted an exclusive clip to promote the upcoming, one-night-only screening of Samurai Jack: The Premiere Movie to their YouTube channel. In the video, Tartakovsky explains why he created the cartoon, which had a lot to do with changing things up from the two series he created before.
In going from Dexter to Powerpuff, there was a lot of dialogue, there was a lot of, you know, we did action, of course, but I was getting burned out on the words, and both shows had this big, thick black outline. And so I was thinking about what's next for me, what I wanted to do, and comedy is really difficult. And all the action stuff that we did in Dexter's and Powerpuff was very successful, and I felt like we had a good knack of it. I decided that maybe the next thing I do is do an action show. And I would complain about all other animated action shows, and so I decided maybe I gotta walk the walk. And so I had this idea, and I just pitched it as, "It's a samurai who gets transplanted into the future. He walks around and fights robots with his sword," and I said, "there's not a lot of dialogue, and it's super stylized," and then we went for it.
What It Means
Tartakovsky's obviously not being critical of Dexter's Lab or Powerpuff Girls for not being completely action-centric, for being comparatively wordy, or for having a thick-lined art style. But given how groundbreaking Samurai Jack turned out to be, it's to our benefit that he saw something he wanted to move away from with his next creation at the time.
What's Next
With Samurai Jack having concluded Jack's story earlier this year, a movie event centered around the show's premiere episodes may seem a little too late (or perhaps too early). But considering the show's impact and its fanbase, it's not too surprising that organizer Fathom Events saw that a movie night for the series was still viable.
Fathom Events' one-night screening of Samurai Jack: The Premiere Movie Event will happen on October 16 in select U.S. theaters.