The 12 Best TV Shows That Premiered in Summer
When watching TV became a great vacation.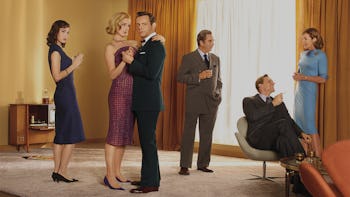 Who wants to watch TV in the summer? There's nothing good on anyway, not when people are out barbecuing and getting plastered. Or going to the beach and getting plastered. Or traveling Europe! (While getting plastered.)
As it turns out, there have been a handful of serial television gems that shined during those breezy summer nights when you didn't get sloshed. Here are some of the best TV shows to have ever premiered when school's out.
1. 'Mad Men'
Premiered: July 2007
Don Draper's journey through a turbulent 1960's America recently came to an end, but Mad Men started as a summer gamble by AMC that paid off in spades. It won the Emmy for Best Drama four years in a row and became a cultural phenomenon during its seven-year existence. Never mind almost everyone was a chain-smoking, amoral hedonist, everyone wanted to be them. Or maybe just look like them.
2. 'Sex and the City'
Premiered: June 1998
Several years removed since this show was broadcast and the true legacy of this porn-y sounding romantic comedy series has yet to be defined. But 50 Emmy nominations during its lifespan and two movies has to mean something, right? Maybe? No matter how divided it left audiences, its tackling of modern social issues drummed up a dedicated fanbase that tours New York on a big pink bus to this day.
3. Six Feet Under'
Premiered: June 2001
Five seasons with the Fishers and their Los Angeles funeral home garnered critical acclaim and consistently high ratings for HBO, with a finale largely considered to be one of the finest in all of television. Who knew that a show all about death could make audiences feel so alive?
4. 'Hannibal'
Premiered: April 2013
One of the most beautiful and haunting shows ever is on right now, and its very existence has been a point of curiosity (low ratings, but passionate and rabid fans). Since 2013, this show has been almost anyone's reason to stay indoors even when it's barbecue weather.
5. 'Masters of Sex'
Premiered: September 2013
Strong emotional intelligence, excellent art direction, powerful performances, and a frank, honest confrontation of modern sexuality framed within a Norman Rockwell painting makes Masters of Sex easily one of the best summer dramas out right now. Don't miss it.
6. 'The Wire'
Premiered: June 2002
Despite that it never won any major awards and only attracted average ratings, The Wire is a modern American classic that stands toe-to-toe with the greatest American literature and contemporary art. The show's genuine portrayal of the urban American struggles was at times complex, funny, heartbreaking, but always memorable. Also, this is the greatest investigation scene of all time. Suck it, CSI.
7. 'Seinfeld'
Premiered: May 1990
It's difficult to imagine today how much of a failure Seinfeld almost was, but NBC had little faith in the show in its early run. With a first season of just five episodes including the pilot, it's staggering how much Seinfeld defied its long odds. The show about nothing talked about everything and is consistently cited as one of the best shows, ever.
8. 'Louie'
Premiered: June 2010
The legacy of Seinfeld lives on in Louie. With zero adherence to a traditional sitcom style, the uncomfortably awkward and always hilarious Louis C.K. navigates the absurdity of life as a middle-aged divorced father working as a comedian. What could possibly go right?
9. 'True Blood'
Premiered: September 2008
At the apex of the vampire fad came True Blood, which would have been Twilight if Stephanie Meyer didn't care about cashing in on superficial teenagers' spending habits. An allegory for LGBT rights, True Blood's modern fantasy where vampires walk and talk with us received critical acclaim before losing its momentum by the finale. Show creator Alan Ball said memorably in a controversial Rolling Stone interview, "To me, vampires are sex … I'm 53. I don't care about high school students. I find them irritating and uninformed."
10. 'Northern Exposure'
Premiered: July 1990
One of the best comedies to ever premiere in the summer was all about life in a fictional Alaskan town. A New York physician sent to a rural Alaskan town originally started as a fish-out-of-water comedy that later became all about the individual, quirky personalities that were a part of a crazy, tiny community. It won two Peabody Awards and 27 Emmy Awards during its run, including the Outstanding Drama Series Emmy in 1992 which the showrunners famously quipped, "But it's a comedy."
11. 'Orange is the New Black'
Premiered: July 2013
Just a few months after Netflix showed off House of Cards, they struck again with the critical hit Orange is the New Black. Based on the memoir Orange is the New Black: My Year in a Women's Prison, the show has not only garnered praise for its smart mix of dark humor and heartbreaking drama, but also for breaking down barriers in its socially progressive storytelling.
12. 'True Detective'
Premiered: January 2014
Although it premiered in the winter last year, HBO is turning their hit anthology crime drama into a summer event with the second season set to premiere this July. Shedding anything that looks or feels like its gothic-Americana first season, True Detective has become a chameleon that can change and evolve and always keep fresh. All that matters is if it can maintain its stunning quality from the first season. Remember: It was hard to believe Matthew McConaughey as a hardened cop, so let's give Vince Vaughn a chance too.