Vin Diesel Teases Groot's Fate With Fan-Made 'Avengers 3' Poster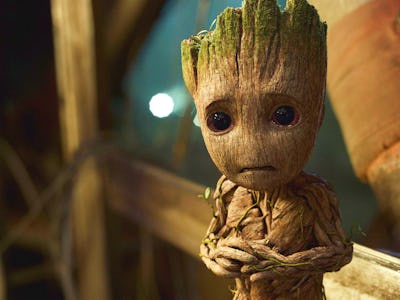 Marvel Studios
It's looking increasingly likely that someone is going to die in Avengers: Infinity War. And, by sharing a fan-made poster, actor Vin Diesel may have unexpectedly stoked fears that the soon-to-be-deceased hero could very well be Groot.
What Happened
On September 16, Diesel shared a fan-made poster of Avengers: Infinity War to Instagram, which could indicate what happens to the fan-favorite Guardians of the Galaxy character in the film. The poster depicts Groot solemnly looking down, and another image of Groot solemnly looking down below the aforementioned Groot. In addition to Groot's expression, the poster's dark color palette and tagline — "Heroes Will Fall" — create a very somber tone uncharacteristic of Marvel films up to this point, and it also hints that Groot might meet his end in Infinity War.
What It Means
Though the poster is fan-made, the fact that Vin Diesel shared it in the first place is interesting. While Diesel probably can't even tease something as big as Groot's death, it could be that the actor wants to remind us that nothing is really certain in Infinity War; any character could go, laying some exciting groundwork for the next phase of Marvel movies. The fact that the fan-made poster comes from a set of ominous character-focused posters made by agent-22 makes this seem likely, but there's always a chance that Diesel simply decided to share something he thought was cool.
What's Next
Of course, even if Groot did "die" in Infinity War, there's precedent for him coming back from the dead with the first Guardians of the Galaxy. But since Thanos is all about courting Death in the comics, there could always be a more permanent workaround for this. Regardless, with more and more being known about Infinity War every week, we'll probably be able to see relatively soon if Groot makes it onto the list of characters who are most likely to perish in the film.
Avengers: Infinity War will be released in the U.S. on May 4, 2018.
Ever wonder how the Guardians travel so dang fast? Check out this video of an expert look at wormhole travel in Guardians of the Galaxy Vol. 2, explained by a theoretical physicist.