'Avengers: Infinity War' Will Have a 1960s Flashback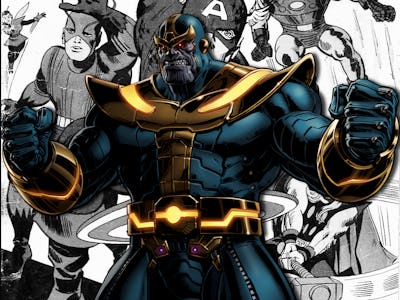 Marvel Entertainment
The very fabric of reality will be at stake in Marvel's Avengers: Infinity War, but directors Joe and Anthony Russo will still take audiences back to a very crucial time in the Marvel Cinematic Universe: the 1960s.
What Happened:
In a Central Casting Georgia post on Facebook from September 15, the film "Mary Lou" — the production title of Avengers: Infinity War — is seeking extras to play period-centric secretaries and clerks in Atlanta (the predominant filming location of Infinity War).
"Hair must be period-appropriate: no longer than shoulder length, no dye, no modern colors or cuts. Must be dress size 0-8," says the casting call. If you ever had the burning desire to cosplay Mad Men, playing an extra for Infinity War is a pretty cool way to do it.
What It Means:
More than likely, Avengers: Infinity War will have a few key flashback scenes that will reveal more about the MCU. Perhaps it'll be the formation of S.H.I.E.L.D. (which was known as the S.S.R. in Agent Carter), or perhaps it'll be the birth of the "Avengers Initiative" that Nick Fury resurrected; the first Avengers comic was published in 1963, after all. And if it's not a flashback, expect a time travel mishap now that Doctor Strange knows how to wield the Time Stone.
Films and TV shows in the MCU frequently hop back and forth in time. There was the period spy series Agent Carter, a sequel to Captain America: The First Avenger set after World War II in the 1940s. There have also been other flashback moments in the films, such as the prologue in Ant-Man (set in the '80s) and the murders of Tony Stark's parents in Captain America: Civil War, which took place in 1991.
What's Next:
Filming for Avengers: Infinity War has been in full swing and will continue to be throughout the year. For those hoping to have their place in the biggest Marvel movie of all time, shooting will begin on Tuesday, October 10, and Wednesday, October 11 in Atlanta.
Avengers: Infinity War will hit theaters on May 4, 2018.