Trump White House is Center of Confusion on Paris Climate Accord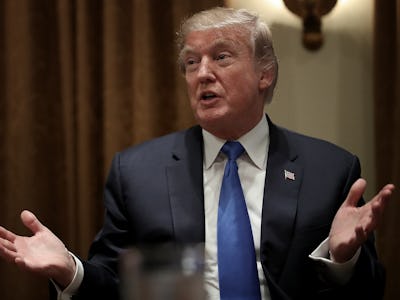 Getty Images / Win McNamee
A European Union official claims that the Trump Administration has decided to re-engage in the Paris Climate Agreement, but the White House is denying the sudden policy about-face.
The Wall Street Journal reported that the administration showed a renewed interest in the Paris accord on Saturday during a meeting between Canada, China, the U.S. and members of the EU in Montreal.
"The U.S. has stated that they will not renegotiate the Paris accord, but they will try to review the terms on which they could be engaged under this agreement," the European Commissioner for Climate Action and Energy Miguel Arias Cañete told The Wall Street Journal.
According to another official present at the gathering, White House senior adviser Everett Eissenstat broke the news during the meeting. Eissenstat apparently outlined a plan to officials that signalled the U.S.'s cooperation in combating climate change along with members of the Paris accord, noting that the administration will be reviewing new emission-cutting targets.
As each country sets its own goals under the agreement, a U.S. re-entry into the Paris accord with new emissions-reduction objectives could still prove underwhelming.
However, it would signal a major shift for the administration and a decision to be involved in a movement along with other nations to fight climate change.
"They are seriously considering the terms on which the U.S. could re-engage," the official told the Wall Street Journal. "They have also made clear that they have no intention to renegotiate or develop a parallel track to Paris."
Yet within hours of the news, the White House released a statement claiming the U.S. has zero interest in re-engaging in the Paris agreement.
"There has been no change in the United States' position on the Paris agreement. As the president has made abundantly clear, the United States is withdrawing unless we can re-enter on terms that are more favorable to our country, " deputy press secretary Lindsay Walters said in a statement.
Press Secretary Sarah Huckabee Sanders echoed the sentiment on Twitter Saturday evening.
How the White House's official stance and the reports from an EU official and an additional source could vary so exponentially remains unclear. The official also told The Wall Street Journal that Trump's top economic adviser, Gary Cohn, would reiterate the U.S.'s involvement in the Paris agreement during a breakfast meeting in Montreal on Sunday. Perhaps we'll know more then.
Calling it a "job-killer," President Trump withdrew from the Paris Climate Accord back in June. At the time, he said he would be willing to re-enter the Paris agreement only under new terms, or proposed crafting a new deal that he would deem fair to American workers.
This story is developing.