NYC Mayor Takes Big Step to Cut City's Carbon Footprint
Building owners will have to make big changes or pay up.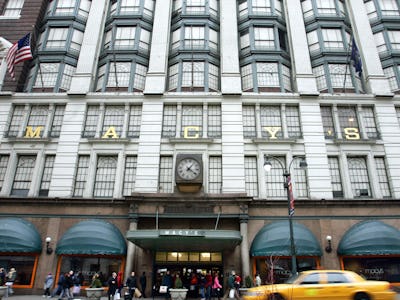 Getty Images / Stephen Chernin
New York City mayor Bill de Blasio has announced major plans to curb greenhouse gases, setting his sights on the city's historic skyline. His mandate — the first of its kind across the country — requires some 14,500 of the city's least-efficient buildings to cut greenhouse gas emissions or else face significant fines.
"By stepping away from the Paris agreement, President Trump has endangered New York City and New York City is not gonna take it lying down," he said at a press conference held in a Brooklyn park along the borough's waterfront. "We're gonna take matters into our own hands."
The ambitious plan aims to reduce greenhouse emissions in New York City by 7 percent by 2035 and create 17,000 green jobs in the process. Owners of buildings of more than 25,000 square feet will be required to improve insulation and hot water heaters while investing in energy-efficient systems to heat and cool the structure.
According to the mayor's office, fossil fuels burned to heat New York's buildings make up 42 percent of the city's total greenhouse gas emissions, and the 14,500 buildings de Blasio has set his sights on having retrofit account for more than half of that percentage. Penalties for not meeting these targets will be determined by building size. As per a press release from the mayor's office, a 30,000 square foot residential building would have to pay $60,000 per year it doesn't adhere to the standard.
This move comes as a direct response to President Trump's decision pulled the United States out of the Paris Accord three months ago. In the days following this decision, de Blasio was one of several mayors to speak out and announce plans to sign an executive order affirming the city's commitment to actively combatting climate change.
"Climate change is a dagger aimed straight at the heart of New York City," he tweeted, going on to call Trump's decision unconscionable.
In the nationwide effort to curb the impacts of climate change, New York City is a logical place to start. That said, getting especially coal-dependent cities like Indianapolis and Cincinnati to join in this mission is imperative.
Around the world, cities have been leading the charge to fight climate change on an individual level. Last year, San Francisco also looked towards building owners to do their share by requiring rooftop solar panels or water heaters on new buildings. Earlier this week, Singapore also announced a commitment to reduce carbon emissions with sustainability standards for large buildings. In China, which is the world's largest producer of greenhouse gases, another strategy has been so far successful: using government incentives that favor owners of electric vehicles.
While putting the onus on the building owners and developers makes sense for large cities where the majority of tenants do not own property, there are concerns to be addressed as well. For New Yorkers and any other city facing this sort of mandate, property owners could very well pass on the cost to tenants by increasing rent.