Elon Musk Announces Tentative Date for Tesla Semi Truck Unveiling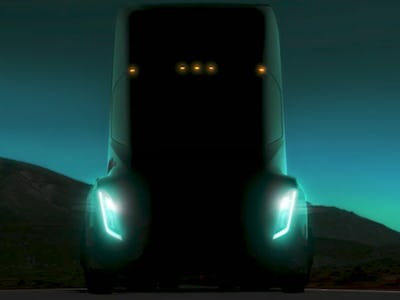 Tesla/TED 2017
Elon Musk's vision of an all-electric Semi Truck will finally be revealed next month, the Tesla CEO has revealed in a tweet.
"Tesla Semi truck unveil & test ride tentatively scheduled for Oct 26th in Hawthorne. Worth seeing this beast in person. It's unreal," he tweeted on Wednesday.
This puts the reveal about a month behind schedule, as earlier reports indicated it would happen in September. As per Musk's tweet, the unveiling will be held at the company's design studio in California.
Already, the much-hyped project has generated a ton of interest. So far, Musk has kept the project shrouded in mystery. Tesla has only released one image of the electric truck so far, and even that was just a glowing silhouette.
What we do know is that its hugely ambitious. The truck, which Musk has described as being "heavy duty" and meant to service users for long ranges, has been made using Model 3 motors and with the goal of eventual autonomy in mind.
After the semi, which is expected to take to the road by 2019, the next Tesla innovation to watch out for will be the pickup truck, which Musk has said to expect unveiled between October 2018 and April 2019.
If you liked this article, check out this video of students testing out their hyperloop pods for tech billionaire Elon Musk.