How to Supercharge Your iPhone Camera With iOS 11
The new software update is available now.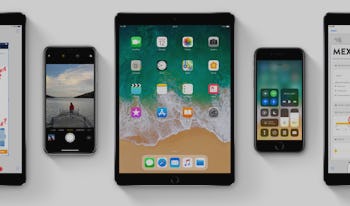 Apple
Apple's next iPhone operating system isn't set to launch until later this month, but eager fans can download the final version right now. After the company's Tuesday event, where it announced the iPhone 8, iPhone 8 Plus, and iPhone X, Apple made the final version of iOS 11 available to developers and public beta testers. For photographers, this update is essential.
iOS 11 introduces a whole host of new features. There's an updated control center, a new multitasking interface for the iPad, a new Files app for managing documents more like a traditional computer, and a drag-and-drop interface for moving data between apps. It also includes support for new augmented reality tools, so developers can easily create apps that merge virtual and real worlds.
But perhaps one of its most impressive additions is the slew of camera improvements. Beyond the augmented reality additions, which give the camera a new role as a portal to a simulated realm, Apple has added a number of in-camera features and photo editing functions.
As an example, the Live Photos feature has received a boost. First introduced with the iPhone 6S, it captures a short video to accompany the image, adding a unique effect when scrolling through. Apple has added some editing tools that make use of this extra data to create new effects. With iOS 11, users can choose to loop the video to make it more fluid or bounce the video to rebound the action. Users also have the option to apply "long exposure" to the still image, which takes the video data and applies it to the still photo to make it seem like objects in shot were in motion as the photo was taken.
In the camera app itself, users will have access to a range of new features. QR codes are now scannable in the field of view, meaning people can access web links and other data faster than ever. The filter section has a number of additions like Vivid and Dramatic. A spirit level lets you take pictures of the sky or ground with pin-sharp accuracy. iPhone 7 Plus users will be pleased to learn that in iOS 11, they can use high dynamic range and flash when taking a photo in Portrait Mode.
The software is a free update that will be made available for download to the general public on September 19. The iPhone 5S, the iPad Air, the iPad Mini 2, the sixth-generation iPod touch, and any newer devices are all eligible to install the update.
Here's how to download iOS 11:
Backup your device. Depending on your current system, you can either back it up by plugging your phone into your computer, or if you have iCloud enabled you can start a new backup by going to the Settings app, then your name at the top, then iCloud, then iCloud Backup, and finally Back Up Now.
Visit the Apple beta website on your iOS device.
Touch "Get Started" and sign in.
Enroll in the iOS beta program by touching "Download Profile" then following the instructions.
Download the update by visiting the Settings app, then General, then Software Update.
You should be prompted to download and install iOS 11.
And that's it! If you're not interested in receiving any further pre-release software updates, visit the Settings app, then under General go to Profiles and remove the iOS beta tag.
If you liked this article, check out this video of a ball that can charge your phone wirelessly.