Apple TV 4K Joins the Big Leagues With These Live Features
Apple is pulling out the big guns.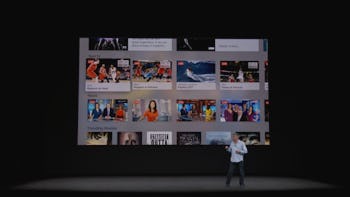 Apple
Apple is finally planning to fix the content drought on Apple TV. The new version, unveiled Tuesday at the company's iPhone event, is capable of playing back 4K resolution video with high dynamic range. On top of these new capabilities, Apple announced a slew of new features for fans of live events that will help boost its entertainment capabilities.
"To experience 4K with HDR, you need great content," said Eddy Cue, Apple's senior vice president of internet software and services, at the company's Steve Jobs Theater in Cupertino.
Later this year, the Apple TV will receive an update that brings an enhanced version of live sports and news coverage. Previews of live streams have an overlay of how much time is left and the current score, a feature that can be turned off for users who would prefer not to know.
The new coverage is smart, too. If the user's favorite team is playing on ESPN, it will be displayed front and center. The software will even notify the user when a game is about to start, or if the game is looking like a close call. Users can call on Siri with commands like "watch the Warriors game" to jump straight to a stream.
The new content is built into the TV app, introduced to the existing Apple TV last year. This offers a single place to sign into cable providers. Previously available only in the United States, the company announced it would also bring the app to Australia, Canada, France, Germany, Sweden, Norway, and the United Kingdom. Unfortunately, the sports-specific capabilities will remain U.S.-only, but these countries will receive tailored content from a number of local providers:
The new 4K-equipped box uses an A10X processor, the same one found in the iPad Pro, to push a larger amount of pixels at once. Apple has worked with Netflix and Amazon to ensure that its streaming services will offer content for the Apple TV 4K.
On the iTunes movie side of things, Apple is making a big offer to buyers. Users that have already purchased high definition films will receive a free upgrade to the 4K HDR version as and when it becomes available.
"Bring the magic of the cinema straight to your living room with the new Apple TV 4K," Cue said in a statement. "Customers will love watching stunning 4K HDR movies from an impressive catalog on iTunes, while also getting automatic upgrades of 4K HDR movies already in their iTunes library and enjoying 4K content on services like Netflix and Amazon Prime Video, coming soon."
The Apple TV 4K is available from September 22, priced at $179 for a 32GB version and $199 for a 64GB version.