U.S. Open Final: Sloane Stephens and the Science Behind Winning
There are a lot of factors at play.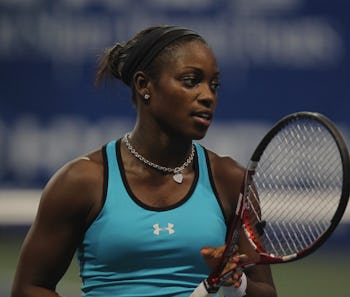 Wikimedia Commons
When tennis up-and-comers Sloane Stephens and Madison Keys squared off Saturday in the U.S. Open, sports fans saw an amazing combination of athleticism, strategy, and sheer will to win.
Stephens beat Keys 6-3, 6-0, and it was both players' first U.S. Open final — the two young women are seen as rising stars in American tennis. Like all pro tennis players, even at 24 (Stephens) and 22 (Keys), both athletes have been pounding it out on the clay since they were kids. Keys' mother, Christine Keys, moved her family to Florida when Madison was 10 so she could attend the prestigious the Chris Evert Tennis Academy and begin competing nationally. Stephens attended Evert when she was 11, and then attended Nick Saviano High Performance Tennis Academy the next year.
Although the two women share similar career trajectories, Stephens has another fun fact about her that puts her in a category that's actually been seen many times throughout sports history; both of Stephens' parents were former athletes.
Stephens' mom, Sybil Smith, was a competitive swimmer in the late 1980s. She became the first Boston University swimming All-American; landing sixth-place in the 100-meter backstroke at the NCAA championships in 1988. Stephens' dad, John Stevens, was also a pro athlete: he played running back in the NFL for the Patriots, the Green Bay Packers, and the Kansas City Chiefs from the late '80s to the early '90s.
Stephens is just the latest example of an athlete reaching the pinnacle of her sport who happens to come from parents with athletic talent. A 2015 Sports Illustrated story points out the Manning family (former NFL QB Archie Manning's sons are NFL quarterbacks Elon and Peyton), the Hulls and Howes of ice hockey (father Bobby Hull and son Brett, and father Gordie Howe and sons Mark and Marty). In baseball, there was father Felipe Alou, who went from the Major League to managing his son Moises in the '90s with the Montreal Expos.
Scientists have long pondered how the gene pool can impact a person's athletic ability. Stephen Roth, an assistant professor of exercise physiology, aging and genetics at the University of Maryland told Scientific American that there are 200 genes that have some level of positive association with fitness-related performance. But with 20,000 genes in the genome, there is still a lot that we don't know.
According to a study on genetic influence on athletic performance authored by Roth and Lisa M. Guth, cardiovascular endurance and muscular phenotypes are highly heritable characteristics.
Current evidence suggests that a favorable genetic profile, when combined with the appropriate training, is advantageous, if not critical for the achievement of elite athletic status. However, though a few genes have now been repeatedly associated with elite athletic performance, these associations are not strong enough to be predictive and the use of genetic testing of these variants in talent selection is premature.
Alright, so we can't exactly call a match based on genetics. But honestly, what kind of fun would that be anyway? Most studies attempting to find links between genetics and performance also point out that environmental factors, training (duh) and personality still go a long way in competition. In other words, don't despair if your parents aren't pro athletes.
During her match versus Venus Williams on Thursday, Stephens made an extraordinary turn around at the end of the third set, winning a 6-1, 0-6, 7-5 victory. When Williams took a 5-4 lead, Stephens still managed to step it up and turned the game around.
"I don't give up," she said, following the match. "I'm not just going to give it to someone. I'm not just going to let them take it from me. I'm going to make sure I give everything that I have, and I leave everything on the court at all times, no matter what."
You can't chalk attitude up to genetics, that's all Sloane Stephens.