Stephen King Has High Praise for Netflix Movie: "Super Creepy"
Two Stephen King adaptations are coming to Netflix within the next few months, but King is especially excited for one.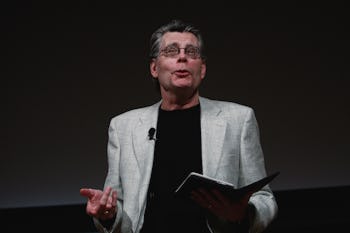 Getty Images / Mario Tama
It's been a good year for Stephen King adaptations. Despite the handful of television show and movies based on King's decades-spanning works that have already premiered this year, there are still a couple more on the way. Two will premiere on Netflix, but King seems especially excited about one in particular.
King told Yahoo! in an article published on Thursday that Netflix's upcoming adaptation of his novella 1922 has him the most excited.
"The one you want to watch for is, Netflix did an adaptation of 1922 from Full Dark, No Stars," King said. "I think that's going to be out in October or something, and man, I saw a rough cut of that and it won't leave my mind. That is super creepy!"
The novella, originally published as a part of King's 2010 collection Full Dark, No Stars, follows the story of farmer Wilfred James. Determined to stay on his farm, Wilfred kills his wife, Arlette, with the help of their son, Henry. Arlette had wanted to leave the farm and move to "the city" — Omaha, Nebraska, to be precise — so Wilfred gets her drunk, puts her to bed, then slashes her throat with a butcher knife. Wilfred and Henry dump Arlette's body down the well behind the barn and think that will be the end of it.
Turns out, the murderous pair is incredibly wrong about that. Everything falls apart, and Wilfred slowly begins to lose his mind.
A first trailer and premiere date are expected soon for Netflix's 1922.