We Finally Know When 'Thor: Ragnarok' Takes Place in the MCU
It's not precise, but we have an official estimate of when it takes place.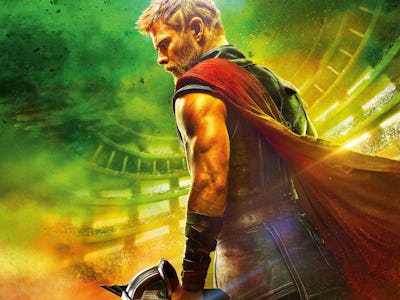 Marvel
Thor's been MIA from the MCU ever since the events of Avengers: Age of Ultron, so it's been unclear exactly when the upcoming Thor: Ragnarok might take place — until now.
Continuity's hard to pin down with 67 or more characters in the MCU and new solo movies rolling out, but in an interview published by Screen Rant Thursday, Ragnarok producer Brad Winderbaum clarifies when the new Thor movie takes place.
During a set visit, Winderbaum said that by the time Ragnarok happens, Thor has spent "a couple of years" working on the mission he set out on at the end of Ultron. Unfortunately, Winderbaum de-canonized the "Team Thor" comedy video in which Thor hangs out with a roommate named Darryl instead of participating in Civil War.
Winderbaum did say, "[Thor: Ragnarok] happens maybe on top of Civil War, on top of Spider-Man [Homecoming]. Somewhere in that ball park." Those two movies happen within a few months of each other, so Thor is presumably off on his personal mission while the less powerful heroes squabble back on Earth.
Winderbaum did also stress that Marvel isn't married to a coherent timeline for these movies, so fans shouldn't be either.
"In the timeline of the MCU," Winderbaum said, "things kind of happen on top of each other, especially now in Phase Three. They're not as interlocked as they were in Phase One, you know, during Fury's Big Week and everything."
Thor's journey in Ragnarok might lead directly into his meeting the Guardians of the Galaxy in Infinity War, a movie in which Thor's bound to take yet another beating from the Hulk-sized Thanos.
Thor: Ragnarok hits theaters October 25, 2017