Star Wars and Marvel Movies Will Stop Streaming on Netflix in 2019
Disney is launching its own streaming platform.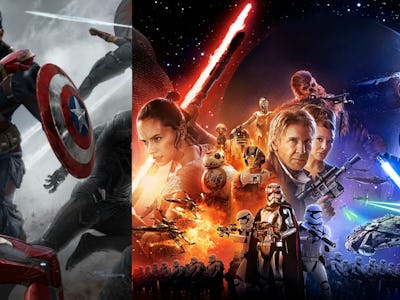 Marvel Entertainment, Lucasfilm
Fans will have to pay a little extra to see a Captain America and Iron Man showdown starting in 2019. Disney announced the news that it would be pulling its content from Netflix back in August to launch its own streaming service in 2019, but the fate of Disney's cult-favorite cinematic universes — the Star Wars franchise and Marvel's Cinematic Universe — were up in the air. Until now.
Disney CEO Bob Iger announced on Thursday that Disney will be pulling its Marvel and Star Wars content from Netflix.
"We've now decided we will put the Marvel and Star Wars movie on this app as well," Iger said at the Bank of America Merrill Lynch Media, Communications, and Entertainment Conference held at the Beverly Wilshire Hotel on Thursday.
Iger also confirmed that Disney's upcoming direct-to-consumer streaming service is expected to launch sometime in late 2019. Marvel and Star Wars fans will have to subscribe to the service in order to access their favorite intergalactic battles, Death Star explosions, and hammer-wielding superheroes.
While access to certain Star Wars and Marvel films have varied from country to country on Netflix, it's unclear if Disney's streaming platform will include every film in both franchises. If it does, that would mean 10 Star Wars films (including the as-yet-unreleased Star Wars: The Last Jedi and the untitled Han Solo standalone) and at least 20 MCU movies (including the unreleased Thor: Ragnarok, Black Panther, and Avengers: Infinity War) could be made available to fans.
Star Wars: Episode IX, Captain Marvel, Avengers 4, and a Spider-Man: Homecoming sequel are also slated for release in 2019, though it's doubtful they'd be available immediately due to their expected release dates.