X-37B Space Plane: What We Know About SpaceX's Latest Payload
The mini-shuttle has spent 2,000 days in space already.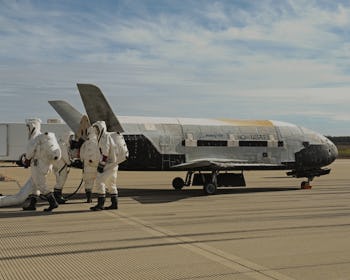 SpaceX pulled off an impressive mission Thursday morning, highlighted by its 10th rocket landing of the year and its 16th rocket landing overall. But the payload that went up into orbit is just as exciting as the launch and landing itself.
SpaceX put a mysterious Air Force spaceplane into orbit. The X-37B, which looks like a mini space shuttle, is an object that's intriguing on its own.
"The X-37B Orbital Test Vehicle — or OTV — is the nation's first unmanned spaceplane," explains Boeing in a video that SpaceX aired on its pre-launch webcast. "The Boeing-built X-37B is a highly flexible testbed platform for a variety of on-orbit demonstrations."
The vehicle is designed to come back to Earth through a runway landing, meaning it's reusable again and again. The Air Force's OTV program is used to test out reusability systems for spaceflight, as part of a larger, global goal to slash the costs of going into space and make space more accessible to public and private parties alike.
"We can tailor our missions to specific user needs, and return experiments back for post-flight inspection," said Ken Torok, the director of experimental systems at Boeing.
The OTV program, with four successful flights under its belt, has already collected over 2,000 days worth of orbital flight data and experimentation.
While the Air Force is generally mum on what exactly the OTV program tests out, one specific highlight is the Hall-effect thruster — a type of ion thruster in which propellants are accelerated through a magnetic field. OTV-4 specifically tested out a Hall-effect thruster as part of the Air Force's work in developing more sustainable forms of propulsion in space, which don't rely on finite chemical fuel.
The X-37B, almost 30 feet long with a 15-foot wingspan, and weighing in at about 11,000 pounds, is the first OTV mission to be launched by a SpaceX Falcon 9 rocket. The Air Force is looking to continue similar sorts of experiments the program has run before bringing the spaceplane back to Earth like its predecessors. It's not yet clear when that will be, but given that the OTV-4 mission lasted 718 days in space before coming back, it's a safe bet OTV-5 will go on for close to two years as well.
"Reliability, reusability, and responsiveness of the X-37B will fundamentally change our performed future space missions," said Torok.
"Reusability is one of the most important steps in bringing down launch costs and improving access to space, in furtherance of SpaceX's ultimate mission of getting to Mars," the webcast host noted. In that vein, the company has as much of a stake in seeing the OTV program go well as the Air Force does.
Here's the rocket launch and landing on Tuesday. You can't see the X-37B shuttle, but it's inside the payload fairing, which is the little nose cone that sits on the top of rocket.