SpaceX Prepares for Another Military Mission on September 7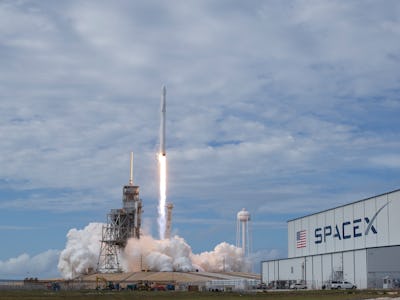 Getty Images / Bill Ingalls/NASA
SpaceX successfully ran a test fire for a Falcon 9 rocket Thursday from Launchpad 39A at Kennedy Space Center in Florida, in preparation for a September 7 mission to launch an American military X-37B mini-shuttle into low-Earth orbit. After delivering its payload, SpaceX will attempt to land the same Falcon 9 first stage booster back on solid ground at Landing Zone 1 at Cape Canaveral Air Force Station.
The company is no stranger to fulfilling missions for the American military, having launched its first spy satellite into orbit back in May. Next week's launch, however, is a more ambitious military launch than anything the company has previously tried.
The X-37B spacecraft, operated by Boeing, is part of the Air Force's Orbital Test Vehicle program. Almost 30 feet long, with a 15-foot wingspan, the X-37B is the fifth OTV mission. The Air Force previously enlisted United Launch Alliance for the first four OTV missions. This will be SpaceX's first.
The 11,000-pound unmanned spaceplane (of which there are only two in the world) is tasked with demonstrating the viability of reusable space technologies. While in orbit, the X-37B will, like its predecessors, conduct a series of experiments meant to test out its engineering and design capabilities — although specific spaceplane activities are classified. The last OTV mission lasted 718 days in space before coming back to Earth and landing at KSC in May.
Although it's not totally clear why the Air Force elected to go with the Elon Musk's company this time around, chances are pretty good money was a factor. A budget report earlier this year strongly suggested it would be prove cheaper for the Air Force to begin contracting SpaceX for its space missions over other companies, due to the fact that SpaceX has been able to slash the prices of its launches thanks in great part to a big push in reusable spaceflight architecture.
Thursday's test fire was notable for the fact that the X-37B was not onboard the Falcon 9. SpaceX learned a lesson exactly one year ago, when a ground test fire malfunctioned, destroying the rocket and its very expensive Amos 6 communications satellite payload.
If SpaceX completes sticks the first stage booster landing next week, it will continue the company's perfect mission streak this year — including nine out of nine rocket landing attempts. That's a good score to take forward in anticipation of the Falcon Heavy maiden flight this November.